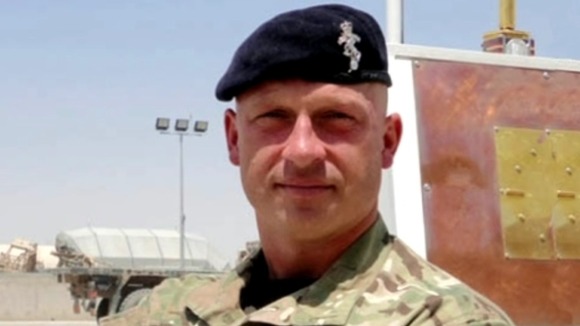 The funeral of Sergeant Jonathan Kups, from the Royal Electrical and Mechanical Engineers, has taken place at Morriston Crematorium in Swansea this afternoon.
Sgt Kups died at Camp Bastion, Helmand Province, southern Afghanistan, on Friday, September 21.
Originally from Nuneaton, Warwickshire Sgt Kups had lived in Gowerton, Swansea with his wife and three children for the past 10 years.
Following his death his family and colleagues have paid tribute to both "a wonderful husband and loving father" and "a man of real substance".
Jonathan was a wonderful husband and loving father to three children. He was a loyal man with a wide circle of friends, a devoted son, son-in-law, grandson and brother."
– The family of Sergeant Kups
You're the best Dad; always in our hearts - our hero."
– Sergeant Kups' children
Sergeant Jonathan Kups, or 'Koops' as he was known, arrived at the battalion in 2011. A real character, his dry and quick-witted sense of humour made him a pleasure to work with and he was extremely popular across all the ranks.

A man of real substance, Sergeant Kups' maturity and considerable experience enabled him to quickly become a vital member of the Electronics Platoon. Without delay he made an immediate impact within his company, developing and training his soldiers and ensuring that they were all fully competent and able to deliver essential electronics support in Afghanistan and back in the UK; his clear and dynamic leadership guaranteed success.

He immersed himself in all aspects of battalion and company life and I swiftly recognised him as one of my 'go to' Senior Non-Commissioned Officers [SNCOs] when a task needed completing quickly, efficiently and to the highest standard.

His loss will be felt across the entire battalion and our thoughts are with his family at this most difficult time."
– Lieutenant Colonel Mark Smyth, Commanding Officer, 104 Force Support Battalion REME
Sergeant Kups joined the battalion in late January 2011 as we started the final preparations for our deployment on Operation HERRICK 16. From the start he made a strong impression.

Technically brilliant, he invested considerable sweat and tears in developing his technicians ahead of the deployment and his efforts reaped significant success. At the centre of electronic repair in theatre, he drove his team hard to ensure those soldiers deployed forward had the equipment they needed - he was never found wanting.

Confident, with bags of humour, he was an SNCO who lived life to the full. His enthusiasm was infectious and he cared passionately for the technicians within his team. He was the father figure and his soldiers loved him for it.

The battalion and the Corps have lost a very talented SNCO. It is a privilege to have served with him and our thoughts are with his wife and his children. He will be sorely missed - Arte et Marte."
– Lieutenant Colonel Neil Thorpe, Commanding Officer, Theatre Equipment Support Battalion (4 Close Support Battalion REME)
I was saddened to hear of the death of Sergeant Kups. I understand that he was an extremely experienced soldier who always took great care and time to help develop and support all those around him. My thoughts are with his family at this difficult time."
– Defence Secretary Philip Hammond

Major Kevin McLoughlin attended Sergeant John Kups' funeral in Swansea where he paid tribute to a "very experienced professional soldier"

The Ministry of Defence is carrying out an investigation into Sergeant Kups's death.