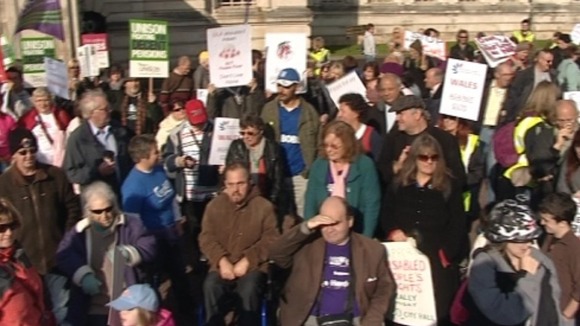 Proposed welfare cuts by the UK Government could 'push some of Wales' most vulnerable people into hardship, debt and isolation'.
That's the warning from The Hardest Hit - a coalition of over 90 disability organisations and charities.
Their report 'The Tipping Point' is published today, bringing together a survey of over 4,500 disabled people, a poll of more than 350 independent welfare advisers and more than 50 in-depth interviews with disabled people with varying conditions and impairments.
Of those who responded from Wales:
Nearly all (97%) said losing their Disability Living Allowance (DLA) would be bad for their health
More than nine in ten (92.3%) said losing DLA would make them isolated
Nine in ten (89.6%) said losing their DLA would make them more reliant on friends and carers
Three-quarters (74.6%) fear they will not qualify for the new Personal Independence Payment, which is due to replace DLA from April 2013
A fifth of the respondents currently receive social care from their local authority, but three-quarters (72.7%) said losing their DLA would mean relying on local authorities for more social care.
Disabled people are already twice as likely to live in poverty; any further cuts to the support that they receive will only serve to push some of those most vulnerable in our society into further hardship, debt and isolation."The Chancellor recently announced a further £10 billion cut to the welfare budget. With £9 billion already having been removed from disability benefits and services in this Parliament, many disabled people now find themselves at a 'tipping point', where the loss of even the smallest amount of income will tip their lives into greater dependence and poverty.We would urge the Westminster Government to learn from the mistakes made over Employment Support Allowance and ensure the assessment for PIP is as clear and fair as possible. They must also rule out targeting disabled people for further spending cuts in the next Budget and Comprehensive Spending Review.
– Ceri Jackson, co-chair of the Hardest Hit in Wales

Responding, the Minister for Disabled People Esther McVey said:
There's a lot of misleading stories about the impact of our welfare reforms on disabled people. The truth is - as the Paralympics showed - the UK continues to be a world-leader in the rights for disabled people. However too often under the current system we are wasting money on overpayments where people's conditions have changed, with £630m a year on DLA alone. Our welfare reforms will ensure the billions we spend, better reflect today's understanding of disability and offer the targeted support disabled people need to live independent lives.
– Esther McVey