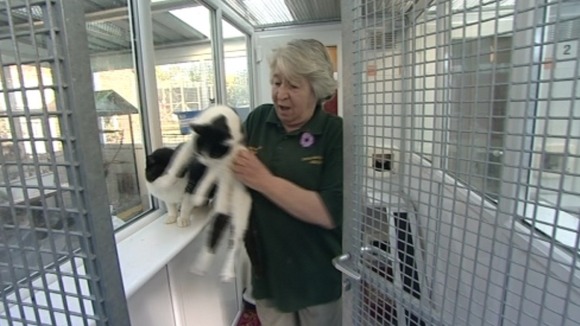 Sheila Stewart has rescued tens of thousands of animals over the years through her animal centre in North Wales. Her work and her compassion have gained her a special award from the International Fund for Animal Welfare.
But with the economy still struggling, organisations like hers are finding it increasingly difficult to raise the funds they need.
It costs £150,000 a year to run - all from donations. The vets fees alone total more than three thousand pounds a month. And the recession means the phone's ringing more often than ever.
Rob Shelley has been to visit her and her centre at Padeswood near Mold in Flintshire.
We have over 50 different varieties, and 300 animals on site. It's a constant struggle - the vet bill is over £3000 every month.

It's getting worse. Calls are getting more urgent.

Every animal that comes in needs to be neutered, vaccinated and identity-chipped... and those are the ones who don't need treatment!
– Sheila Stewart

Sheila says "sixty percent" of the animals the centre currently receives have been abandoned by their owners, and require medical treatment.