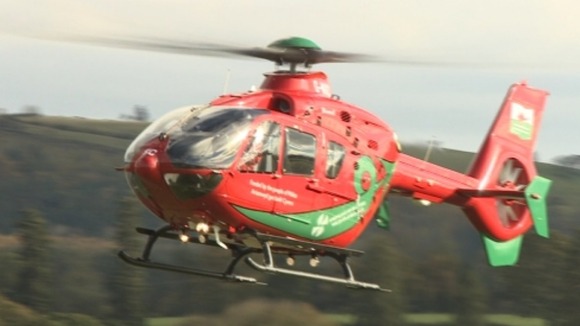 Wales Air Ambulance is launching a new modern helicopter from its base at Welshpool today. It means the charity's three aircraft across Wales have all now been upgraded.
The service carries out around 2,000 rescue missions every year in total, and prides itself on being able to reach anywhere in Wales within 20 minutes. It costs £6 million per year to run, but receives no direct government funding, relying on donations from the public to keep the helicopters in the air.
There have been calls for the air ambulance service to be paid for in part by the Welsh Government, including from Shadow Health Minister Darren Millar.
The Wales Air Ambulance provides a greatly valued service to people across Wales. We fund the paramedics on the Air Ambulance but the operational costs of the helicopters are funded through charitable donations from the Air Ambulance Charity. The Charity has not made a request to the Welsh Government for us to provide additional funding for this service and it continues to meet operational costs through public donations and support.
– Welsh Government spokesman

Wales Air Ambulance's three helicopters are based in Caernarfon, Welshpool and Swansea. Each crew has one pilot and two advanced life support paramedics, trained in pre-hospital emergency care.

Paramedic Rhodri Thomas says the new aircraft will make a significant difference to the crew's work.

The 'new generation' helicopter, which will operate from Welshpool Airport, replaces a 20-year-old model. £600,000 was collected during a specific fundraising campaign to pay for it.
The response we have had from this appeal has been phenomenal. People from every corner of Wales have helped us with our final upgrade to a new generation helicopter, meaning all three aircraft have the very latest technology for air ambulance operations here in Wales.This really is a new chapter for Wales Air Ambulance, and for pre-hospital care in Wales. These helicopters are faster, more efficient and have more room inside for treatment in-flight. Now that we have this technology across the country, it means everyone in Wales - from busy towns to the remotest of countryside - can benefit from this cutting-edge emergency air cover.
– Angela Hughes, Wales Air Ambulance Chief Executive

Helimeds, a new series looking at the work of Wales Air Ambulance helicopter crews, is on ITV1 Wales tonight at 8pm. The paramedics rescue a man who has been injured in a car crash, and staff recall treating a patient who lost his leg in an industrial accident.