Wounded soldiers take up archaeology for recovery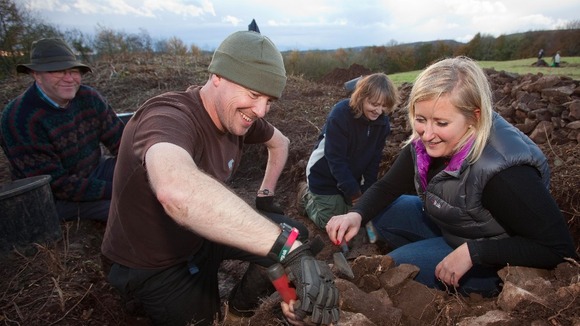 Soldiers wounded in Afghanistan are helping to excavate an Iron Age fort in Monmouthshire in a project aimed at rehabilitation and developing skills.
It's hoped injured soldiers will benefit from both the technical and social aspects of field archaeology. The project - codenamed Operation Nightingale - was set up by Sergeant Diarmaid Walshe of the 1st Battalion The Rifles and Richard Osgood, Senior Historic Advisor of the Defence Infrastructure Organisation. This work, at Llanmelin Wood in Caerwent, also sees a link up with Welsh heritage body Cadw.
We're very excited about the project from an outreach and engagement point of view but also from an academic research perspective. Was this site indeed the tribal capital of the Silures, an Iron Age tribe that occupied south east Wales prior to the Roman conquest?
– Dr Caroline Pudney, Community Archaeologist for Cadw

Excavation, land survey, drawing and mapping techniques are taught to the injured soldiers involved in the project, and it's also hoped their all-round presentation skills will be enhanced. It's already inspired a number of them to go on to take university courses in archaeology.

Excavations involving former soldiers have also taken place at Salisbury Plain, and it's hoped that this will eventually be a service available around the UK.