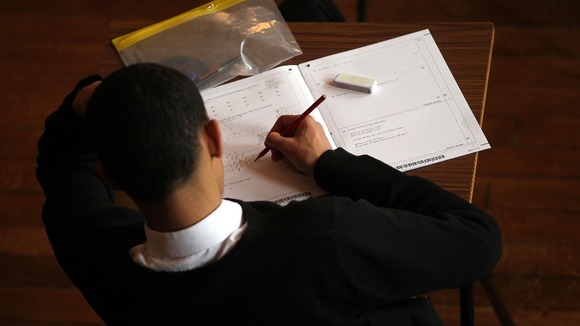 The Welsh Government was warned that regrading GCSE exams in English would 'seriously damage' the integrity of the qualification. The comments were made by the WJEC exam board in emails released by the Welsh Government.
The WJEC chief executive Gareth Pierce said that regrading the exam papers would create 'a split standard' for the exam board's qualification.
More than 2,000 Welsh teenagers were given improved grades in September, after Welsh Education Minister Leighton Andrews ordered the WJEC to regrade the papers of pupils here, because of concerns over changes in grade boundaries midway through the year, which meant many got lower grades than expected.
Michael Gove, Education Secretary in Westminster, criticised Mr Andrews' decision as 'irresponsible and mistaken'. GCSE pupils in England have not had their exams regraded.
Details of a meeting of the WJEC's English Language Awarding Committee has also been released. In the meeting the members expressed 'serious concerns' about the implications for any future examination awards. They also stated they were 'uncomfortable' that a regrade would only take place for some of the students taking the exam.
Meanwhile the Welsh Education Minister has been given evidence to the Assembly's Children and Young People Committee. Leighton Andrew defended himself saying that it is his view that ministers should be involved in issues that he described as 'fundamental'.
The question for me was, should I intervene, and, if so, what would be the implication of my intervening? If I were to intervene - and this was a question I had to think about in early August, but it would have been the same in July or April or March or January. If I were to intervene at that stage it would essentially mean I would say 'right, the setting of grade boundaries in Wales will be done on a different basis from the setting of grade boundaries in England. Now, if I had done that I think I would have been probably crucified in the media and by members here, because I would have had very little evidence on which to base that judgement. It was only after we had the exam results - and even at the stage when I was starting to get involved - 30th July, I got a briefing from officials then on the 3rd August - I didn't have the final results then, so I couldn't see the impact of this. This is the first year in which we've had to wrestle with this issue, and we've had to wrestle with it one, because of change in specification, two, in my judgement and in judgement of many others, because of a change in approach by Ofqual in respect of comparable outcomes. It's the first time we've had to address that. Now, I think that if you're going to make an intervention as a minister, you better have the evidence on which to make that intervention. I didn't have the evidence until the officials reported to me following the review I asked them to undertake once we had the GCSE English results.
– Leighton Andrews AM, Education Minister