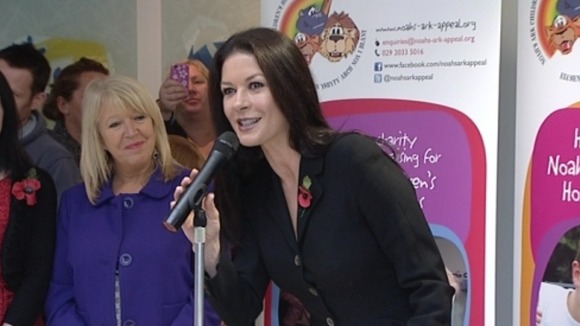 Catherine Zeta-Jones visited Cardiff today to officially rename the The Children's Hospital for Wales.
As patron of The Noah's Ark Appeal, the hospital's official charity, the actress unveiled the hospital's new name - Noah's Ark Children's Hospital for Wales.
The hospital opened in 2005 and treats children from all over Wales in need of specialist medical and cancer care.
It's due to be expanded in 2014 to ensure children needing surgery and those in intensive-care have the same facilities.
The Swansea-born actress told ITV Wales that she 'wanted to give something back' to her home country.
"I'm a Welsh mother... the welfare and health of children is really important to me. I've been very blessed in my life - I've had two healthy children," she said.
"It gives me great pleasure to give something back."
VIDEO: Full interview with Catherine Zeta-Jones
The new name was unveiled this lunchtime and marks a change for the charity as the two organisations move forward as one.
Catherine explained that the Noah's Ark Appeal will also have a new official name:
Our own charity name has changed so that people new to Wales or new to us as supporters will more easily understand that our charity and the hospital are two halves of one team each sharing the same goal - to provide world-class care for sick children in need of specialist and life-saving care.
– Catherine Zeta-Jones

Paul Hollard, Deputy Chief Executive of Cardiff and Vale University Health Board, said the charity had worked tirelessly to raise millions to benefit sick children in Wales.

Following Catherine Zeta-Jones' visit, the Noah's Ark Appeal tweeted its excitement.

Excitement at the newly named Noah's Ark Children's Hospital for Wales!!

Would like to say a huge thank you to everyone how came today! We have had a great day!

Once again Catherine Zeta Jones displayed what makes her a fantastic Patron for our charity. It means so much to her and all Welsh parents!