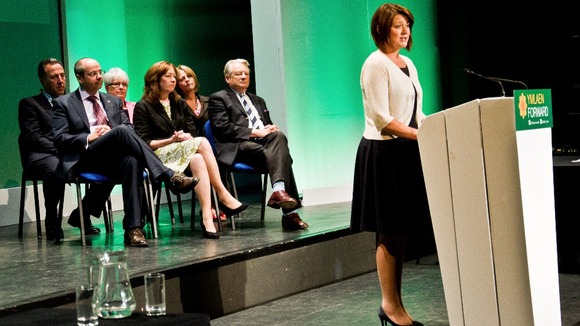 Plaid Cymru leader Leanne Wood says she'll fight a constituency seat in the 2016 Assembly elections. In a speech in Aberystwyth this evening, she claimed that by leaving the relative safety of her South Wales Central regional list seat, she is making a statement of ambition to make Plaid Cymru a party of government in the fifth Assembly. She added that in order to win power Plaid Cymru has to win more of the constituency seats that make up two-thirds of the Assembly.
Leaders are called leaders for a reason. And it is my intention to lead. Tonight I inform you of my intention to seek the nomination for a local constituency in the next Assembly elections. The exact seat is a question for another day, and that will largely be dependent on decisions taken by the grassroots members in due course. Some will, I am sure, point out that I am giving up the relative safety of a regional seat to choose the much riskier option of a constituency battle. But it's a risk I believe is worth taking.
– Plaid Cymru leader Leanne Wood AM

Although she is giving herself some time, which could easily turn out to be a couple of years, to decide which seat to contest, her choice will be a difficult one. Simply defending a seat vacated by another AM would hardly be the statement of ambition that Ms Wood says is required. The Plaid leader might also prefer not to contest the Llanelli nomination if the seat's former AM, the party's chair Helen Mary Jones, wishes to try again.

Leanne Wood's native Rhondda was held by Plaid Cymru in the first Assembly but her own defeat there at the subsequent Westminster election signalled Labour's determination to retain its long term grip on the constituency, now held by the Education Minister, Leighton Andrews.

However, if her strategy of trying to win more constituency seats works, she could be wise to join the battle. Under the Assembly's electoral system, a party that wins constituencies can start to lose regional list seats. The former Welsh Conservative leader, Nick Bourne, lost his seat in Mid and West Wales as a result of that process,

The Plaid leader also announced plans to open up the party to people from outside politics to contribute ideas and put themselves forward as potential Assembly members.