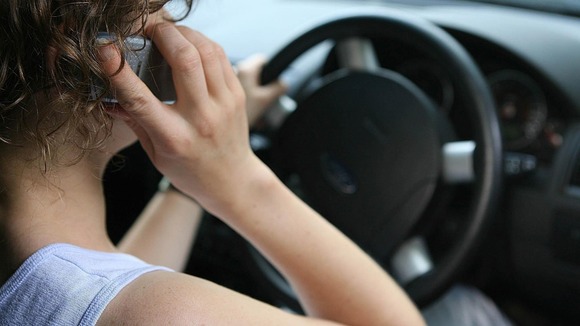 Nearly 1,000 people in Wales were caught using a mobile phone behind the wheel during a recent two-week crackdown.
Officers from all four Welsh police forces carried out patrols last month as part of the 2012 All-Wales Anti-Mobile Phone While Driving campaign.
A total of 972 offences were recorded over the fortnight.
Dyfed Powys police issued the most fixed penalty notices to offenders - 454 altogether.
In the Gwent area a total of 128 notices were issued to law-breakers, while South Wales Police issued 242. In North Wales a total of 148 offenders were caught and apprehended.
Males aged 26 and over were found to be the worst offenders Wales-wide.
The full breakdown of offences in terms of age and gender is as follows:
Females aged 25 and under: 120
Females aged 26 and over: 171
Males aged 25 and under: 209
Males aged 26 and over: 415
Age and gender unknown: 48
Police have repeatedly warned of the dangers of using a phone behind the wheel, stressing that even a slight lapse in concentration can have serious consequences.
Along with drink driving, speeding, not wearing a seatbelt and driving carelessly, using a mobile phone behind the wheel - whether it be texting, using an app, or making a phone call - is classed as one of the five most common causes of fatal road traffic collisions. Even the most experienced or competent of drivers can be easily distracted.
– Lee Ford, Gwent Police Roads Policing Inspector

Meanwhile, road safety groups said they were disappointed that so many continue to flout the law.
While it's saddening to see that so many motorists got caught using a mobile phone whilst driving, it has also demonstrated the resolve of all the Road Safety Wales partners in tackling this issue and we will continue to work together to drive home the message that you need to switch off before you drive off.
– Susan Storch, Chair of Road Safety Wales

Do you think there should be harsher penalties for people who use a mobile phone behind the wheel? You can join our Facebook discussion or tweet us.