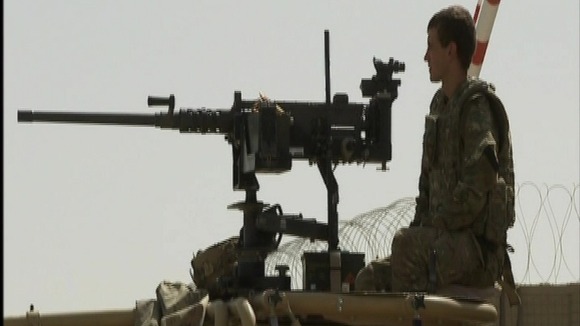 The Territorial Army has long lived with a Home Guard, "weekend warrior" image, but as the government moves to slash the number of regular troops, reserve forces will be playing an ever greater role.
For the past year, Wales This Week cameras have been following the fortunes of Welsh Reservists, from the TA's newest recruits to fully-fledged soldiers on the front line in Afghanistan.
There is a desire to increase the commitment of the Territorial Army while we decrease to some degree the level of regular army required to sustain what we do
– Major Lee Mullholland - 3rd Battalion Royal Welsh

Infantry recruits have nine weekends of preparatory training before going on a two-week course at Catterick in Yorkshire to complete their initial instruction. They then commit to a minimum of 27 training days a year and within little more than twelve months, could then be deployed to Afghanistan.

Inevitably, employers will come under increasing pressure to free up their staff for military duty.
We are asking a heck of a lot from employers... the majority of Welsh companies are small to medium sized and they can't afford for people to go away for a long period. This will be part of the problem that will have to be solved if we want to make an affective Territorial Army in Wales
– Col. Bob Stewart MP

Last week, the UK Government confirmed plans to recruit a further 10,000 part-time soldiers and rename the TA as the Army Reserve.

Wales This Week: From Spare Time to Front Line, is on at 730, Tuesday 13th November on ITV Wales

The full programme is now available to watch here

Very interesting #walesthisweek program. Dad was reminising of his time in the TAs during the early 80's. Thankfully no front line for him!