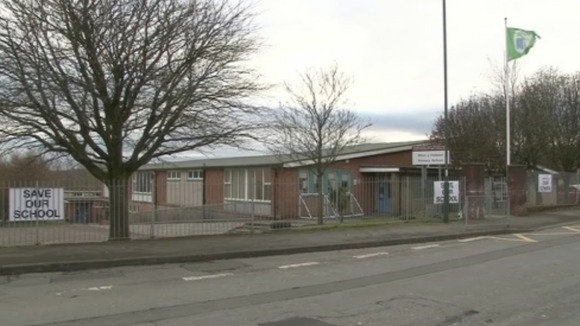 Parents of children at Blaenau Gwent Primary School say they're outraged that the local council is proposing to close their school and put children into temporary classrooms outside.
Families, govenors and councillors plan a protest today. One hundred and thirty six children attend Rhos y Fedwen Primary at Rassau in Ebbw Vale - but Blaenau Gwent Council say there are too many empty seats in its schools and reorganisation is required.
There are too many surplus places in some of Blaenau Gwent's schools: the Council must act if it is to meet Welsh Government's expectation that all local authorities reduce surplus school places to below 15 per cent by 2015. The current level of surplus places in the primary sector is 26.7% in Blaenau Gwent, so much work remains to be done to create an effective and efficient school estate.
– Blaenau Gwent Council

Sharon Griffiths a mother of two children at the school and a PTA member says a vital part of the community will go if the school closes and standards of education may fall if the children have to attend Glyncoed Primary School.
We are worried about attendence levels if the school closes. The proposed new one is 1.2 miles away if you walk the safe route. If the weather's bad, and it does get bad here, will the attendance levels remain the same? We also think the other school could be overcrowded with less facilities and less educational opportunities.
– Sharon Griffiths PTA Member.

Blaenau Gwent Council says all parents concerns will be taken into account during an informal consultation process which will then form a part of its decision making.