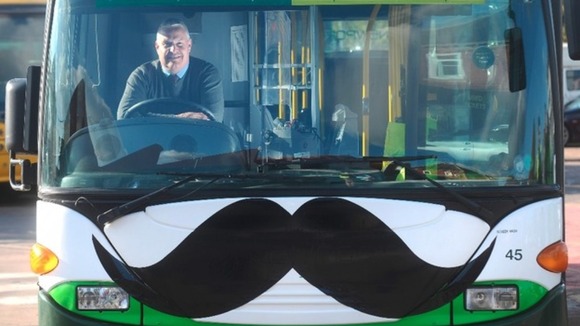 Newport buses and their drivers are sporting spectacular moustaches in aid of 'Movember' - where moustaches are grown for the month of November to raise money for charity.
Bus drivers, admin staff and engineers at the Newport Bus Station are all part of the Movember team.
But it's not just the men who are attracting stares with their facial hair - the buses have also been given special moustaches on their bumpers to help raise awareness of 'Movember'.
A lot of staff at the company wanted to get behind the Movember campaign including our bus drivers.

We thought it would be fun if some of our buses did the same too.

Each bus has a different moustache - some curly, some very of the 80s, but it's all part of the fun. We're aiming to raise as much money as possible.
– Morgan Stevens, Commercial Officer Bus

The bus-taches are attracting a lot of attention from passengers too.
I love the buses with the moustaches - they look hilarious.

You can't miss them they're that big. It's really funny as you're waiting to see the bus to see one coming at you with a moustache.
– Lucy Williams, 22, from Caerleon

Movember is an international charity which raises money and awareness for ment's health, including prostate cancer.

You can donate money to Newport Bus's page here, or in the Movember collection tin at the Newport Bus Station.