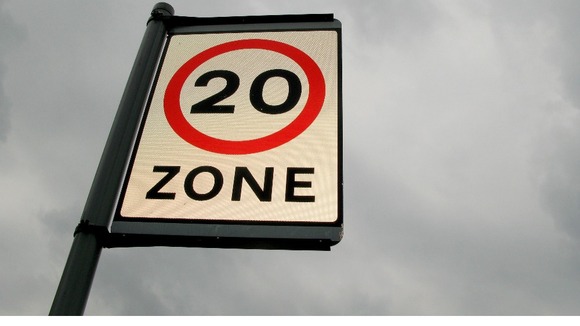 A campaigned has been launched today that is asking drivers and local authorities in Wales to 'GO 20'.
Brake, the road safety charity, is calling for more 20mph speed zones to be placed in built up areas so children and their families can walk without their lives being placed in danger.
A survey of school children in Wales has shown that more than three-quarters want drivers to slow down near their homes and schools, while forty percent say they have been a hit or nearly hit by a vehicle while walking.
GO 20 report:
More than three-quarters (77%) say drivers need to slow down around their home and school.
Nearly three-quarters (74%) say they would be able to walk and cycle more if roads in their neighbourhood were safe.
Four in 10 (40%) say they have been hit or nearly hit while walking or cycling.
Nearly three quarters (73%) worry about being hurt by traffic when out and about.
Source: Brake, Brain Injury Group and Specsavers survey of 506 children.
In 2012 the Welsh Government put forward proposals through the Active Travel Bill, requiring local authorities to set up a network of walking and cycling routes, to encourage more journeys on foot and bike.
Although Brake have welcomed this move they say more work must be done to improve the safety of pedestrians and cyclists by lowering speed limits.
Everyone in Wales should be able to walk and cycle in their community without fear or threat: it's a basic right, and GO 20 is about defending that.

Critical to this is making our streets and communities safe places we can use and enjoy.

Anyone who drives can help bring this about: pledge to GO 20 in communities, even where the limit's still 30: you'll be helping to protect people around you, and you'll hardly notice the difference to your journey.

We're also calling on the government and local authorities to recognise the need for 20mph, and the huge demand for safe walking and cycling, and GO 20.
– Richard Coteau, campaign spokesperson at Brake

The effects of being involved in a road traffic accident can be severe.

19 year-old Kiera Phillips, from Bridgend, was on a pedestrian crossing in her local town centre when a car drove into her, breaking her neck and lower back, and leaving her with serious, long-term injuries.
When you're in college you should be concentrating on your studies, not having to deal with the horrendous aftermath of being run over.

I went through so much pain and disruption to my life.

Having to wear the brace was really uncomfortable and frustrating; I couldn't even brush my hair. I never want anyone else to go through what I have gone through.
– Kiera Phillips, road traffic victim

In Wales in 2011:
24 people were killed on foot and 237 were seriously injured. Of these victims 87 were children
11 cyclists were killed and 107 suffered serious injuries. Of these victims 24 were children
Source: Reported road casualties Great Britain 2011
A number of events are being held around the UK to coincide with Road Safety Week.
One of Go 20's roadshows is being held at Hendrefoilan Primary School in Swansea as children there will be given advice on safe walking and cycling