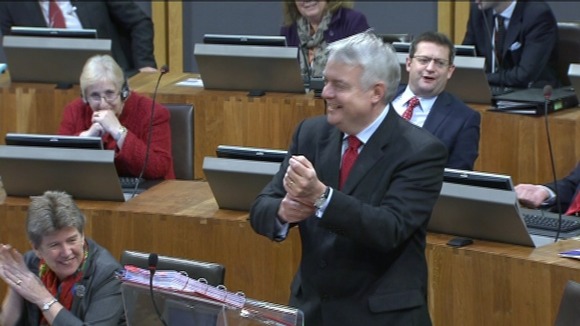 Cue the music. Get some ZZ Top on loud as a soundtrack. Action! Carwyn Jones walking in to that top tune Sharp Dressed Man. Some of the members of the plenary resplendent in ZZ Top style beards to their knees because it's Movember. All setting the scene for an extraordinary outburst from that Hugo Boss of leaders, Andrew RT Davies.
It all started with the now regular exchange of insults about the NHS. Labour accused of presiding over a funding shortfall. The Tories accused of being dishonest in how they could create extra funds to pay for their vision of the Health Service.
The FM proudly pointing to his group said that at least his side of the house was honest, unlike... and here he tailed off in the midst of uproar that was only quelled by the timely intervention of Presiding Officer Rosemary Butler .
RT, fuelled by the accelerant of indignation, time-shifted himself into the parallel universe that he generally accused the FM of inhabiting. And, employing his now familiar destruction of the English language, said this:
Last week, I noticed at First Minister's questions the FM busy pruning himself. Pulling his suit together, pulling his cuffs together. If you take the suit off, there is very little substance there!
– Leader of the Opposition Andrew RT Davies AM

Ooh! I say missus! Carry on Politics at its best!

But the FM took it all in good humour and obliged by shrugging his suit like Del Boy, extending his arms and adjusting his cuff links to the mirth of members on all sides.

Then wheeling round to RT said:
He accuses us of trivialising issues but he comes in talking about cuffs and suits! The reality is we care about the NHS. His party never explain where the phantom money comes from!
– Carwyn Jones AM, First Minister

Ah well! A visit from Santa is just round the corner. Time to make a Christmas wish!