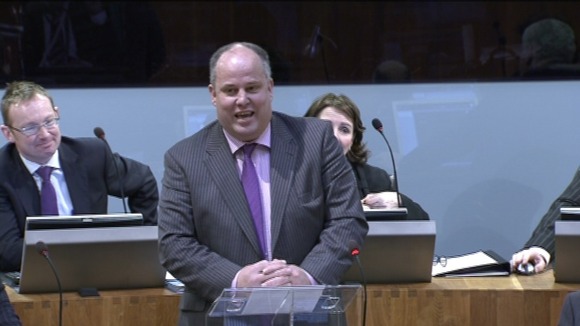 We have learned so many things this week about Members of the Assembly.
Who would have imagined that our First Minister could turn his hand to making a strawberry crumble? True, it was never actually eaten. but it's the thought that counts and it was in a discussion about life skills that he confided in us, rather modestly , that he had in fact made the fruity concoction in a Home Economics class in school.. This King of Puddings was then forced to languish at the bottom of the family freezer until the day the FM married when it escaped under its own initiative.
We have also witnessed over the term the truly Thespian talents of many of our politicians. Not always intentional, it must be said but evident none the less.
Andrew RT Davies, for one could probably have a fair attempt at a career in stand up comedy.
Take today when he returned to the event known by some as badgergate .
RT took his opportunity at FMQ's to challenge the First Minister over his Government's attempt to pull an episode of Pobol-y-Cwm because a character didn't agree with its bovine TB policy.
If Gavin and Stacey got stuck in traffic because Minister's failed to build an M4 relief road, would they try and ban that too ? I find it hard to believe that the First Minister is still defending this laughable attempt to control a soap opera.

This whole sorry incident will go down as one of the First Minister's biggest blunders!
– Leader of the Opposition Andrew RT Davies AM

But far from defending the incident , the FM went on the attack claiming incidents where the Conservative Government attempted to, as he put it ,muzzle the BBC! Citing a letter from Iain Duncan Smith to the Mail on Sunday about a BBC report, he had this to say:
The reality is the Conservative party spends its entire time complaining about the BBC. We will take no lessons from them in terms of what they're trying to do to muzzle the BBC,
– First Minister,Carwyn Jones AM

But , of course , the Leveson report and how its recommendations might be implemented is serious stuff.Both from looking at how the public can be protected from the worst excesses of tabloid journalism and the same time as maintaining press freedom from Government clampdowns. So the fact that the Welsh Government attempted to stop an episode of a soap in the same week as Leveson was somewhat ironic and a matter that the Leader of the Liberal Democrats, Kirsty Williams returned to.But the FM as usual had an answer for everything.
There was an election on Thursday on the day that programme was broadcast. That is an issue that has to be resolved. I'm not aware of any soap opera where direct criticism of a Government has been included in the script of a soap opera, ever ,in the history of the UK. Ever.
– First Minister,Carwyn Jones AM

There were helpful cries off of '' The Archers ''

Followed by this from Kirsty Williams
The First Minister is absolutely right , it is a soap opera but maybe you've got experience of that FM, the way you handle public services in Wales . On the day the Levesen report was published you were busy trying to protect your Government by censoring a public service broadcaster when Welsh people would have expected you to join the likes of Nick Clegg and Ed Milliband in protecting innocent people who are victims of phone hacking and media intrusion
– Leader of the Welsh Liberal Democrats, Kirsty Williams AM

But it was the Leader of Plaid Cymru, Leanne Wood who had something different to discuss.

After , a rather slapstick start to her performance, thanks to a dead mike and a man crawling around the floor trying to fix it,

But , once underway , Leanne turned her attention to the subject of changes proposed to local hospital services by Local Health Boards.The Government had established that it was inappropriate for Ministers to comment on these changes. So how was it , she wanted to know that Education Minister , Leighton Andrews had written a letter on Assembly headed note paper saying that he was concerned at proposed changes in his area ?

The FM had this to say
It was as an Assembly member and not as a Minister
– First Minister,Carwyn Jones AM

Ah well that's all right then. The same man but different parts. Could be a soap in that!