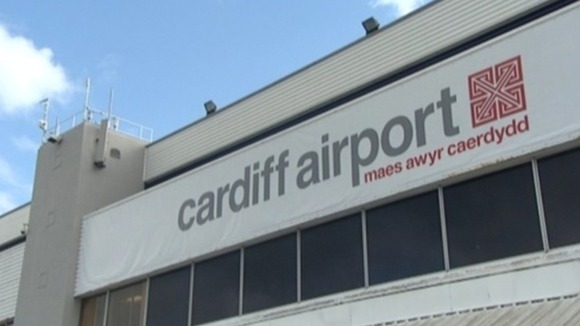 At an unscheduled press conference this morning, First Minister Carwyn Jones has announced that the Welsh Government has reached an agreement with TBI (International airport management company) to purchase Cardiff Airport.
The First Minister went on to say that it is fairly common in the UK & EU for airports to be state-owned and that "Cardiff Airport will be run on a commercial basis", with one possibility for it to become London's 'terminal six'.
The First Minister confirmed the airport would be run by a specialist operator and that any investment will result in a financial return.
He would also want to see staff transferred to the new operator with their existing terms and conditions.
The purchase of the airport will provide some very exciting opportunities for international trade and tourism...We believe there is great potential to develop the airport, especially with the possible devolution of air passenger duty...It is fairly common in the UK & EU for airports to be state-owned. Cardiff Airport will be run on a commercial basis.
– CARWYN JONES AM FIRST MINISTER

Carwyn Jones said the price for the airport will be subject to independent valuation, but stresses this agreement will only be taken forward following a period of due diligence.
Over the last few months, Cardiff Airport has engaged in positive and constructive discussions with the Welsh Government on how best to position Airport for challenges ahead.

In the course of those discussions it emerged that a sale of the airport was one possible option.

To explore that option further, a process has been put in place which will allow the Welsh Government to undertake comprehensive due diligence.

Depending upon the outcome of that due diligence and other related activities it is our understanding that the Welsh may decide to proceed towards a purchase
– Steve Hodgetts, Business Development and Commercial Director, Cardiff Airport

In April, the First Minister came under criticism after he announced plans to create a Task Force to look into the future of the airport.

The Welsh Conservatives claimed the Welsh Labour Government rejected numerous opportunities to invest in major routes from Cardiff, which could have opened up the Welsh economy to lucrative American and European markets.

The Task Force was to look at delivering joint strategic initiatives for the airport including improving the experience of airport users, maximising the economic impact, minimising negative environmental effects and growing the airport in terms of leisure, business and freight traffic.

Wales' largest union, with about 100 members working at the airport including the fire and rescue service, said that this could mean increased business opportunities for Wales and an increase in tourists from abroad.
Cardiff airport has, for some years, been heavily criticised for a lack of managerial vision and operational strategy.

This has resulted in a less than effective and severely constrained service for the people of Wales, the business community and overseas visitors.

The announcement today by the first minister is very welcome and will, we hope, herald the transformation of the airport into a fitting gateway to Wales which will attract a larger number of operators flying to a greater variety of destinations.

It will also encourage more visitors flying into Cardiff, whether for business or tourism.

This proposal will not only benefit the travelling public, but could give a significant economic boost to Wales.
– Andy Richards, Unite Wales secretary

Bristol airport say they are awaiting further information on the proposals with interest but, they say, based on the information available they would question whether the acquisition of a commercial business operating in a highly competitive market is the best use of taxpayers' money.

They went on to say the nationalisation of Cardiff Airport goes against the global trend towards privatisation and increased competition amongst airports, which is particularly the case in the UK regional market.
Passengers in Wales are already well-served by a combination of Cardiff and other airports, including Bristol. Bristol Airport's route network includes 100 direct services and access to many more destinations worldwide through multiple daily flights to major European hubs.

Bristol Airport welcomes fair competition on a level playing field, but we are concerned that Welsh Government intervention may distort the market for air travel in the South West of England and South Wales to the detriment of consumers on both sides of the border.

We are also concerned about the recent Silk Commission's recommendation to devolve long-haul aviation passenger tax to Wales and the First Minister's stated intention to scrap this tax.

The First Minister has stated today that Cardiff Airport will be run on a commercial basis and would not receive subsidies from the Welsh Government. We will seek assurances from the First Minister that this will be the case.
– ROBERT SINCLAIR, CHIEF EXECUTIVE OFFICER AT BRISTOL AIRPORT