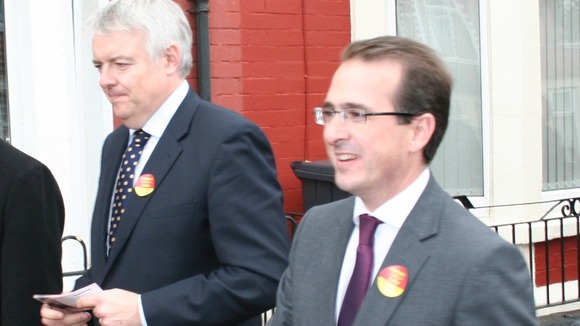 Today Labour will officially launch its campaign to win the Welsh 'battleground' constituencies. They are eight of the 106 seats it claims will decide the result of the next Westminster election. The party has opted for what it calls an 'entirely offensive' list, suggesting that it doesn't expect that any of the seats it currently holds will be at risk.
Ed Miliband is determined we are going to be a one term opposition returned with a working majority at the next General Election. Our aim is to have a 60 seat majority. These seats are our path to that majority.
It is not a list of every seat we will target for the 2015 General Election, as we will review this list, taking into account opinion polls, elections results and campaign activity on the ground – but it is where we will start.
– Labour Party Campaign Co-ordinator Tom Watson MP

Although a 60 seat majority is roughly what Gordon Brown's government had in the House of Commons, the party is doing more than target what was lost in 2010. It seems that Wales in particular is expected to deliver more than its share and has been given some ambitious targets:
Cardiff North (Conservative majority 194: Labour needs 0.2% swing)
Arfon (Plaid Cymru maj 1,455: Lab needs 2.8% swing)
Carms West & South Pembs (Conservative maj 3,423: Lab needs 4.2% swing)
Vale Of Glamorgan (Conservative maj 4,307: Lab needs 4.4% swing)
Carmarthen East & Dinefwr (Plaid Cymru maj 3,481: Lab needs 4.6% swing)
Aberconwy (Conservative maj 3,398: Lab needs 5.7% swing)
Preseli Pembrokeshire (Conservative maj 4,605: Lab needs 5.8% swing)
Cardiff Central (Liberal Democrat maj 4,576: Lab needs 6.3% swing)
The list goes beyond the seats that Welsh Labour lost at the 2010 election. Arfon and Aberconwy both include parts of the old Conwy constituency, held by Labour until it was abolished three years ago. But Arfon also includes the Caernarfon area, which has not been Labour for nearly 40 years. Some seats that Labour is not targeting -Clwyd West, Monmouth and Brecon & Radnorshire- all have more recent memories of a Labour MP.
The inclusion of Carmarthen East & Dinefwr -lost by Labour in 2001, plus Preseli Pembrokeshire and Cardiff Central -both lost in 2005, also demonstrate that winning a working majority will not be an easy task for Labour at the next Westminster election.
Our 2015 target seat list is bold and ambitious. In the run up to the next general election, Welsh Labour will take the fight to the Tories, the Lib Dems and Plaid; engaging and working with communities across Wales to create a One Nation Britain where everyone has a stake and the rewards are shared.
– Welsh Labour spokesperson

Like all parties, Labour is now assuming that the next election will be fought on the same constituency boundaries as the last one. The Prime Minister has not yet totally abandoned his ambition for constituencies with much more equal numbers of voters. That would cut Wales' 40 seats to 30 but the Liberal Democrats' decision to oppose the plan means it almost certainly won't happen before 2015.