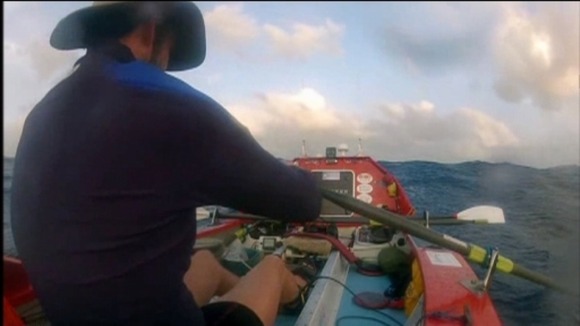 When firefighters John Haskell and Jamie Windsor set out to row the Atlantic from the Canary Islands to Barbados, little did they know that they would end up only days away from breaking the record for a crossing made by a wooden boat.
The worst storms and the roughest seas for seventeen years meant that there wasn't a second to relax, as the two men and their 23ft long boat made it's way westwards, with both men taking it in turns to row day and night.
John and Jamie had both wanted to raise money for charities such as Breast Cancer Care, Help for Heroes and WRVS. Their wives however were surprised about the manner in which they decided to do this. Neither John nor Jamie had ever rowed a single mile in their lives, let alone 3,000 of them.
After years of fundraising, refurbishing the boat and a little practice John and Jamie set out to cross the Atlantic along with seventeen other boats that were taking part in the race known as the Atlantic Challenge.
During the row they also faced sharks, injuries and close encounters with cargo vessels many times their size.
When we made contact with big commercial vessels they would say "what are you doing? You've got no sail". When we would reply that we were rowing to Barbados they would always laugh and sometimes they would even come out and give us a wave"
– John Haskell, Team Atlantic Dash

Despite being a small boat in a very large ocean the wildlife still managed to find John and Jamie and provided a welcome distraction from their task. Wildlife such as sharks weren't always a pleasant sight, but other underwater creatures provided once in a lifetime moments.
The highlight of the trip for me was when we came across a whale. I got a dive mask and jumped in the water and i got a video of him coming past. As a natural experience in my life I will never beat it"
– Jamie Windsor, Team Atlantic Dash

After forty five days of rowing John and Jamie arrived at Port St. Charles, Barbados, to a heroes welcome. There to meet them were their families who were more than happy to see the two men make it onto dry land.

Team Atlantic Dash raised over £25,000 for their nominated charities.

Wales This Week, John and Jamie's Atlantic Dash is on tonight, Monday the 21st January at 8 on ITV Cymru Wales

The full account of John and Jamie's journey is now available online. Watch the full programme here: