As food prices soar, utility costs continue to climb and inflation stays well ahead of average pay rises, Welsh family budgets are under an ever-increasing pressure.
Latest figures show that almost half of all households in Wales are now in debt and the average family owes around £2000.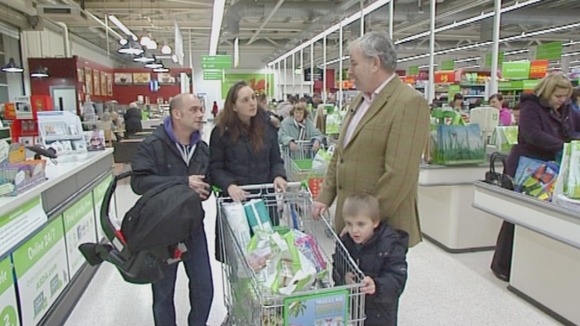 The Greens are a family of four from Bargoed. Lack of funds has meant that mum Kelly and dad Alun haven't been out as a couple for the last four years. They are also yet to have a honeymoon, almost two years after they got married.
The Greens spend £312 a week, considerably less than the Welsh average household expenditure of £398 a week. But, with a new addition to the family, one year old Annelise, and having just moved into their first family home together, they are determined to cut costs wherever they can.
Professor, Henry Enos, is an expert in Consumer Behaviour at the University of Glamorgan and has offered to give some advice to the Green family.
He knows how people are persuaded to spend their hard-earned cash and says that by following some basic simple tips, planning and organising your life, you can save hundreds of pounds a year.
If you are looking after your money you are making it work harder for yourself. We rely in terms of marketting and supermarkets on what is called inertia, and that is people not taking the time to look for the best bargains and we tend to just march ahead in spending.
– Professor Henry Enos, Faculty of Business and Society at Glamorgan University

46 year old Ieuan Butler is a cleaning supervisor and body-builder from West Wales. He lives with his partner Julie and her 2 children.

Money has always been tight so he has spent most of his life living without luxuries. He was so careful with his finances that in 2009 he was awarded the title of "Britain's Tightest Man".
It was in the local paper and I was down as a scrooge and eberneezer scrooge and all that. I am a careful man with money, I have got the biggest heart...i've got the biggest love i'll give to anybody. So that title of britain's tightest man, I am very proud of it.
– Ieuan Butler, Britain's Tightest Man 2009

Find out how you could save on a cup of tea with Ieuan and cut those everyday bills with Henry.

Wales This Week: How Much Could You Save? - Watch tonight on ITV at 8pm.