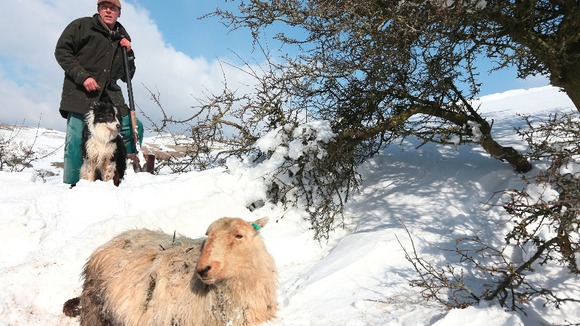 The Welsh Government have announced that laws preventing the burial of dead animals on farms are to be 'relaxed' for the next seven days. Farmers have been calling for the change to help them deal with the deaths of hundreds of lambs and ponies following heavy snow in north and mid Wales.
The Chief Veterinary Officer for Wales has told ITV News that farmers will be able to bury their dead animals in 'certain areas' of Wales where no other option is available.
Dr Christianne Glossop says that farmers will have to contact a 'fallen stock collector' before they can be aprroved to dispose of their own dead animals.
The law relaxations will come into force from midnight.
The Natural Resources Minister says he is also "considering how best to provide long term support to our farmers in Wales."
Alun Davies said that he is steadfast in his "support to develop an industry that is not reliant on subsidy."
Providing additional further direct financial support into individual farm businesses is not the way to improve our long term resilience.

I have consistently argued against the policy of the UK Government to reducing direct CAP payments to farmers precisely because I recognise that farm business require public support to become more efficient and profitable.

I remain happy to consider any further practical support that the Welsh Government can provide both to the industry and to individual business at this difficult time.
– Alun Davies AM, Natural Resources Minister

Farmers in North and Mid Wales have been calling for support after one of the worst Easters on record.

Gareth Wyn Jones, who farms near Llanfairfechan in Conwy, who has lost many lambs himself says farmers will be "physically, mentally and financial worse off" but that they now need to move on.

He say that after the last fortnight of snow he can finally 'see light at the end of the tunnel' after the death of hundreds of farm animals in heavy snow.

He says some farmers have lost half of their sheep.

Opposition parties in the Assembly have claimed that the Welsh Government has been too slow to react and has not gone far enough in its response to the impact of heavy snow on livestock farming.
The Welsh Government has been slow off the mark in dealing with this disaster and while this announcement is welcome, it is too little, too late. Welsh Conservatives believe that a derogation should be granted in these exceptional circumstances to allow farmers to deal with fallen stock in an efficient and practical manner.
– SHADOW MINISTER FOR RURAL AFFAIRS ANTOINETTE SANDBACH AM
I share the unions' severe disappointment, however, that there is to be no programme of direct financial aid. Of course farming is a business that is exposed to risk from the elements, and that will always remain the case. However, I would urge the Minister to be in listening mode when he meets representatives of the Welsh farming unions in the next couple of days. I look forward to meeting the Minister myself in Powys later this week to discuss the severe difficulties Welsh Livestock farmers are facing as a result of the extreme weather – and to press the case for assistance
– LIBERAL DEMOCRAT FARMING AND FOOD SPOKESPERSON WILLIAM POWELL AM