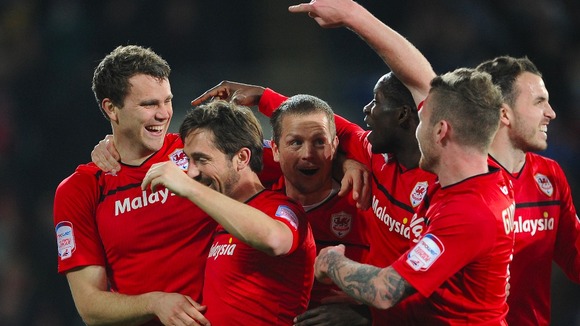 Cardiff City believe they can learn from the example set by Swansea City both on, and off the pitch, if they manage to secure promotion to the Premier League.
The Bluebirds currently sit top of the Championship table six points clear of second placed Hull and potentially two wins away from guaranteeing their spot in football's top division.
Should they get there they will be in line for a guaranteed prize pot of £90m, made up of money from broadcasting rights, and guaranteed "parachute" payments should they get immediately relegated, and just how they use that money will arguably be one of their toughest test.
But Club Director Steve Borley believes they need to look at nearest rivals Swansea City to see how to handle such an influx of cash, and secure the club's long term future.
I think if you look at the way Swansea have done things down the road, they've done things the right way. They've bought cleverly, they've bought players from underneath the radar and they've been sensible with the way they've run their budgets.

There's good, bad and indifferent in football and you learn off everybody.
Speaking as the club opened the latest part of their training and development centre next to the City Stadium, which will be used primarily by the club's junior academy, Borley spoke candidly of the transformation the club has undergone since he arrived at the then Ninian Park in 1997.
I remember looking at the original criteria (for a junior academy) and our earliest ambition was just to provide kit and coaches for a non existent (academy) programme.

The kids in those days were trained by school teachers on a part time basis and they used to wear five year old Firs Team kit which were full of holes and three or four sizes too big. It was comical.