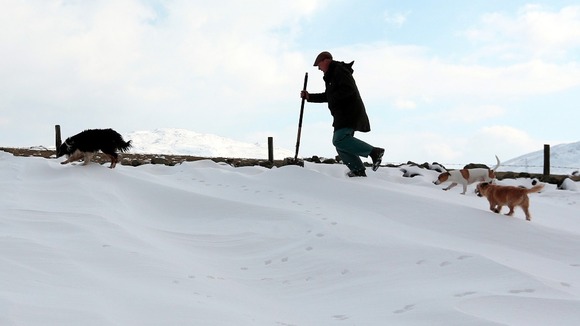 A group of farming leaders have signed an open letter to the Natural Resources Minister calling for more support following last month's snow.
The group say that what has so far been offered does not "adequately compensate for the quite extraordinary and devastating consequences" which it says are having a "dire effect on those businesses affected in Wales."
The letter is signed by NFU Cymru, FUW, YFC and the Country Land and Business Association.
In the letter, the group call for 'parity of treatment' for farmers in Wales and those in England, Northern Ireland and Scotland who they say have offered 'significant financial packages.'
[The] Welsh Government appears to have closed the door on emergency aid even before knowing the full extent of the losses which continue to mount on some farms as the snow recedes, the Welsh Government argument being that there are "fundamental differences" to the losses sustained in Wales relative to other parts of the UK.
– Letter sent to Alun Davies AM

The group say they have taken the 'unprecedented move' because of the gravity of the position some farmers are facing.
These farmers need evidence that Welsh Government cares about their plight. They are not seeking to be advantaged as a result of the exceptional circumstances they have had to endure but they do look to Welsh Government to provide parity of treatment with others suffering similar consequences in other parts of the UK and do not expect to be placed at adisadvantage when it comes to recognition of the hardship they face.
– Letter sent to Alun Davies AM

Alun Davies has previously ruled out offering any more support to farmers affected by the snow saying that a lot of businesses have been affected by poor weather and that the Welsh Government can't help them all. Speaking to ITV News he has said that 18,000 farms in Wales are already receiving a total of £260million in direct subsidies.

Meanwhile rules banning the burial of animals have been suspended for two weeks to help farmers deal with their dead livestock.