Autism hope in drug trial
by Kevin Ashford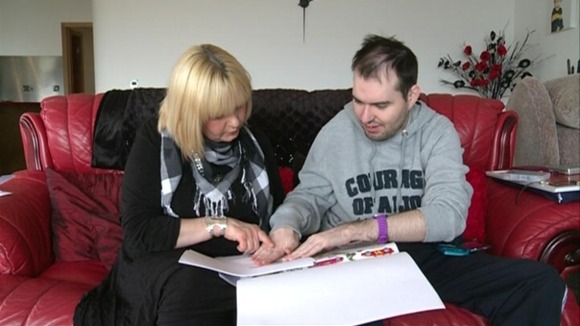 Trials have begun at Cardiff University to see if a drug that shrinks tumours could also help treat some forms of autism.
It is an unexpected side-effect of the medication which is used by people with the genetic disorder Tuberous Sclerosis Complex (TSC).
There are an estimated 500 people in Wales with TSC which causes non-malignant tumours to grow on the skin and in organs like the brain and kidney.
Sufferers are also more likely to have conditions such as epilepsy and autism.
A drug called Everolimus has been shown to shrink tumours in people with TSC and there is also anecdotal evidence that it improves their autism too.
Trystan James, 26, from Cross Hands in Carmarthenshire has the disease and is already taking the drug.
His mother Marie says it has reduced tumours on his face and also helped his autism.
Those who know Trystan well have noticed that there have been significant improvements in the way that Trystan is able to tolerate changes in activity which for someone with autism can be very difficult.
– Marie James, Trystan's mother

The research at the Institute of Medical Genetics at Cardiff University will investigate the extent that the tumour-shrinking drug can help the brain function of TSC sufferers.

Professor Julian Sampson who is in charge of the study says it could help improve understanding of the causes of autism.
The research is one of the first clinical trials to assess whether a drug can improve brain function in people with an inherited disorder.

If it works it will benefit patients directly and could provide clues as to whether this class of drugs called mTOR inhibitors might have wider benefits in problems like autism.
– Professor Julian Sampson, Institute of Medical Genetics

The study is expected to take up to two years to complete.

There is more information about TSC on www.tuberous-sclerosis.org