In the hours after April Jones went missing, a national Child Rescue Alert was issued. The system is intended to help coordinate police, the media and the public.
This carried critical information about April on television and radio. It asked for anyone who may have seen a girl matching her description to call a dedicated number connected straight to the control room.
A similar system, pioneered in the United States, is used in European countries.
When these unusual disappearances happen we need to respond quickly, which clearly happened in this particular case, as police responded very quickly and understood what the parents were telling them about what was going on.

We live in an age of digital/social media. The proliferation of these messages is very, very fast, and quickly people get involved and want to help. It's in marked contrast to some other countries, where people don't get so involved.

It seems to stir the public emotion and imagination, and everybody wants to get involved
– Charlie Hedges - CEOP (Child Exploitation Online Protection)

The Child Rescue Alert helped spread the news of the search quickly - but Dyfed Powys Police stress they needed to make sure they needed to make sure they had appropriate logistics in place before issuing the alert.

Catherine Meyer, from PACT (Parents and Abducted Children Together), says the response in the first hours after a child's disappearance are crucial.
Personally, I think [the alert] could have been launched earlier, and I think the police also would say the same, but it was the first time [on this scale].

I think there'll be a lot of lessons to be learnt from this experience, but at least it has been launched, so I think people are starting to hear about it.

I think it was effective also in raising awareness of April Jones going missing, but it was not effective on her disappearance. We all know that the first five hours are the most important, so [the alert] needs to be launched immediately.
– Catherine Meyer, PACT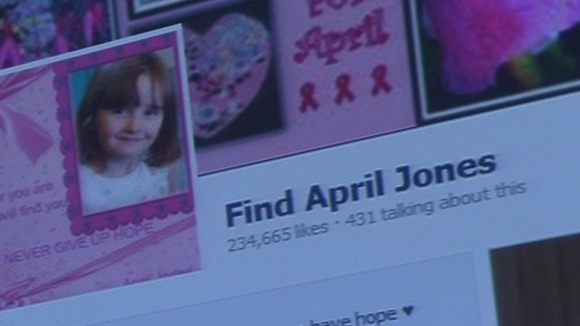 Social media became an effective tool in the hunt for April. It was the first place information started circulating before the police had even issued the official alert. The details regarding her disappearance quickly passed around networking sites, including Facebook and Twitter.
The initial reaction was instant and enormous. In the first twelve hours after April went missing there were over 150,000 responses on Twitter. In comparison, I think you're looking at around 2,500 calls to the police in the whole period of the first three days.

Hashtags were set up, people started individual Facebook pages, as you can see if you do a search online - it's quite hard to find the official page. It was immediate and enormous

It's a horrific event. If you're a parent in that situation you bond with that. Public goodwill, public feeling... you basically take that community and all of their contacts.
– Adam Williams, social media lecturer, University of South Wales