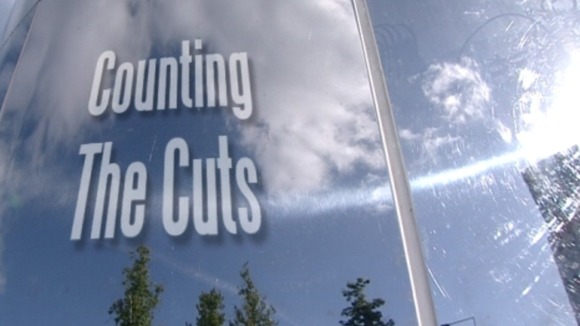 From bins to buses, to leisure centres and libraries... almost every aspect of our lives depends at least partly on the public purse.
Spending on public services is coming under increasing pressure and budgets could be squeezed further from next year.
On Wednesday, Chancellor George Osborne is likely to announce further cuts in Government spending. The spending review is expected to announce cuts in government spending for 2015-2016 that could amount to £11.5bn.
There is concern in Wales that the amount of money the Welsh Government receives could be cut.
Aaron Shotton, a spokesperson for the Welsh Local Government Association, believes further cuts will have a significant impact on public services.
The cuts we are likely to face over the coming years have been described by many in local government as a nightmare scenario.

That apocalyptic vision is set in the context of that if you take out the amount of savings that we are faced with having to make they will have consequences that will change the face of local government in Wales.
– Aaron Shotton, Welsh Local Government Association

Cuts have already made an impact in Wales, with local authorities cutting spending in an effort to save million of pounds. The Touch Trust is one charity which has lost £15,000 in funding from Cardiff Council. The charity provides therapeutic activities for the disabled.
Losing that money is terrible. We feel now as if we have a Damocles sword hanging over our heads. £15,000 to us is a huge amount of money.

We're struggling to survive. Our future is insecure and there are so many who need what we have to give.
– Dilys Price, Founder, Touch Trust.
The Touch Trust grant was on a fixed-term, three year basis, and had already been extended for an additional year.

We will continue to work with the Trust, and all other third sector organisations, to explore accessing alternative, more appropriate funding as we set our future budgets.
– Cardiff Council spokesperson

In Wrexham cuts have already had an impact on some discretionary school bus services.

Some pupils from St Joseph's Catholic & Anglican High School in Wrexham are losing their school bus service from September.

The bus service caters for fare-paying pupils who live within 3 miles of the school. It may not be the closest school to their home, but they travel further so they can access the school of their choice, a faith school.

The school says the cuts will affect 125 of its pupils. Headteacher Maria Rimmer is disappointed with the decision.
I'm almost beyond words. I am absolutely appalled.

There was no consideration whatsoever of the impact on children, on families, on educational outcomes.
– Maria Rimmer, Headteacher, St Joseph's Catholic & Anglican High School

Wrexham Council says it has to make over £34million worth of savings over the next five years.
We have had to make some very difficult decisions across the board and Wrexham have withdrawn a discretionary service which no other authority in Wales provides and will save around £160,000 a year.

Unless we start to address these savings now, we're going to be in a worse position over the next couple of years. Free transport will be provided for pupils attending their nearest school when the journey to that school is deemed to be unsafe in accordance with the Council's hazardous routes to school policy.

All routes will be assessed under this policy.
– Wrexham Council spokesperson

Ahead of Wednesday's spending review the Welsh Government told Wales This Week taht any further cuts to its budget "will have devastating consequences for Wales."
There is no denying that Britain has a debt problem, built up over many years, and we have got to deal with it.

The choices this Government is making are choices about the kind of country we want to live in and where we spend our money, particularly in these challenging times.

The Welsh Government has to accept responsibility for making the same choices.
– UK Government spokesperson

Communities across Wales will find out on Wednesday what the future holds for the public services they've come to rely on, when the full extent of the cuts for 2015-16 become apparent.

'Wales This Week: Counting the Cuts' will be broadcast at 8pm on ITV Cymru Wales.