Chris Coleman looks to make his own mark on Welsh football
by Nick Hartley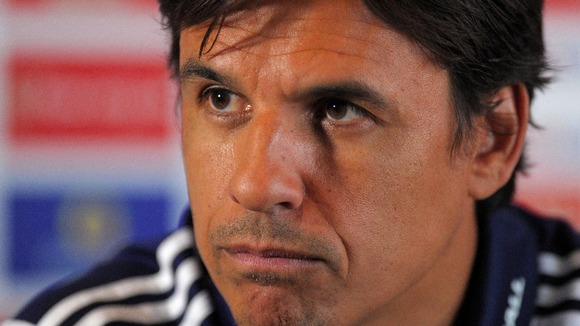 Chris Coleman is a manager who divides opinion. In one camp stand the antis, convinced that his record and methods fall below that expected of an international leader. In the other the realists, who measure his two-year stint against the context of player availability and the awful circumstances in which he was appointed to the post.
Whichever one you lie in one thing is for certain, he is the man who will lead Wales in their bid to qualify for Euro 2016. Having signed a two-year contract extension with the FAW he now faces the international managers' most difficult adversary, time.
Barring any changes, last month's friendly with Finland was the last time he will have his squad together until their next scheduled camp in March 2014. Not ideal then that the lasting memory of Welsh international football is a late equaliser in a game that Wales should really have won. That is the thought on which he must dwell.
"Yeah, we had a friendly with Finland which was a tough game but a game we should have won with two minutes to go, one-nil up, we should have closed the game out but we didn't.

"It's nice while there's space between games sometimes, now we don't play until March, that's quite a long time – it's a hell of a long time in football – you do get used to it as a manager. You don't like it anymore but you get used to it."
– Chris Coleman

Whether it passes quickly or not, the next four months will be time to reflect on a turbulent two years in charge of the national team.

Since taking charge in 2012 following the death of his close friend Gary Speed, Coleman faced the unenviable task of balancing the expectations of a Welsh footballing public buoyed by the apparent sea-change in Welsh football under Speed, with the reality of playing both football manager and father-figure to a young group of players rocked by the passing of their leader and friend.

The resulting dip in form and points led to Wales finding themselves in yet another failed campaign and, as the clock ticked down on his contract, pressure mounted from both outside and inside Welsh football to look to a future beyond Coleman.

But after disappointing defeats in Serbia and Macedonia, a ray of light beckoned the end of the campaign. A hard-fought win over Macedonia in Cardiff and a point against a marauding Belgium showed enough to convince both Coleman, and his employers that more is to come.
"When I got the job obviously the circumstances weren't great. It's not something you ever get over; you learn to live with it.

"I'm going to say this now because I'm the manager, but I just thought it was unfair that as soon as I walked in the door we had to qualify (for Euro 2014). We were a good team, we should qualify. Anything less is not enough.

"I kind of looked at that and I thought that A) that's not being realistic and B) it's not fair. But sometimes that's the way it works.

"We were always playing catch-up. You know, if it could have gone wrong it did at the start of it.

"The [first] Belgium game we lost James Collins after 20 minutes, we conceded just before half time. We lost Joe Allen before the game so we had to change it round.

"We were always trying to play catch-up in the group.

"So we've had two years. We've had some good things, some not so good, and you look at it as a good experience but I think going into the next one, it doesn't matter what group we're in.

"I'm not hoping and praying that we haven't got any of the big guns, probably we will have some big hitters, that's the way it works."
– Chris Coleman

Wales now have big hitters of their own though.

In Gareth Bale and Aaron Ramsey Coleman has at his disposal two of world football's finest talents – talents that any side would welcome to their ranks.

As he has pointed out time and time again though it is not the strongest players that will define Wales fortunes, but the weakest. It is therefore inevitable that the next four months will see much of the former Swansea and Fulham player's focus fall on the development of Wales youngest talents.

Having blooded players as young as 16 year old Liverpool midfielder Harry Wilson during the last campaign the foundations have already be laid but it is a challenge that Coleman believes goes far deeper with the national side now acting as part of players' development as clubs focus more and more on foreign imports.
"It's harder for the home-grown talent to come through now.

"The Premier League is recognised as the best league in the world and most of, if not all, the better foreign players are in the Premier League and that just keeps everyone back, it keeps the young players back, it stops them getting a chance.

"With Wales we saw last month young Declan John making his debut. I think it was only in pre-season he was turned into a full back.

"He had a couple of games for Cardiff because (Andrew) Taylor was suspended, done well and he gets his chance with Wales and he gets his first Welsh cap, because we don't have a massive pool of players.

"The younger players with us have probably got a better chance of getting through with us or having a little taste of what it's like.

"The international side of it for us is maybe different to Swansea/Cardiff where the younger, home grown players maybe are not getting that chance because Cardiff and Swansea are Premier League clubs, they've got big strong squads, foreign players also, maybe the home-grown talent is not coming through."
– Chris Coleman

Whether young or old one of the greatest tests for Coleman will be simply getting his best players on the same pitch at once, something he is yet to do during his time in charge.

Two years in though and the path ahead is clear. No inheritance of another man's project, no more deficits to make up before he has begun.

When they meet back in March it will be Chris Coleman's squad and Chris Coleman's campaign.
"We've just got to have a good squad of players together. We've got two years experience together, which is important. We've got continuity.

"So yeah, I will look at this next campaign and go right, now then, I can't say judge me on this because as a manager you're always judged, but for myself personally I'll go 'right, this will be mine'. I'll do it how I see fit, win lose or draw.

"I'm looking forward to the challenge."
– Chris Coleman