January
The year began with Plaid Cymru's Bethan Jenkins being reinstated to the party's group of Assembly members. The South Wales West AM had been suspended after she was charged with drink-driving in October and was banned for driving for 20 months after pleading guilty. Later in the year she was censured and apologised. In an interview with me she told me she how she felt she let down her constituents, family and friends.
There were calls for the First Minister to make a new statement on the investigation into the death of Robbie Powell following a Wales This Week investigation which found that parts of the independent report into the ten year old's death had been withheld. Plaid Cymru leader Leanne Wood committed her party to campaigning for a Robbie's Law to allow bereaved families to access medical records, and to outlaw the deletion of entries in records.
The Welsh Liberal Democrats said they'd cut the basic rate of income tax by 2p in the pound if income tax powers were transferred to Wales. Andrew RT Davies, the leader of the Welsh Conservatives told me that he'd campaign for a 'No' vote in a future referendum on Britain's membership of the European Union if voting 'Yes' meant heading towards a 'greater Federal Europe.'
February
MPs voted to allow equal marriage. Two Welsh Labour MPs voted against along with all eight Welsh Conservatives including the Welsh Secretary David Jones. He was heavily criticised by campaigners and politicians for comments he made about the issue in an interview with me for the Face to Face programme.
The Prime Minister asked Labour MP Ann Clwyd to look into the way complaints from patients are handled in the English NHS. It followed a damning report into failings at the Mid Staffordshire NHS Foundation Trust and her decision to make public her distress at the care given to her late husband in his dying days.
A poll for ITV suggested that Wales would vote in a referendum for Britain to stay in the European Union and that Labour could gain an overall majority in the Assembly.
The Education Minister Leighton Andrews removed control of schools from Merthyr Tydfil council following a highly critical inspection report.
March
The Presiding Officer Rosemary Butler told the Silk Commission that the Assembly needs more members in order to cope better with its lawmaking powers. She expanded on her comments in a Sharp End interview.
The Education Minister traveled to Westminster to appear before MPs on the Commons Education committee where he defended his decision to order a regrade of English-language GCSE exams in 2012. Housing Minister Huw Lewis revealed that the Welsh Government was considering introducing penalties including increasing council tax to get empty properties back into use.
The First Minister reshuffled his cabinet, moving Lesley Griffiths from the job of Health Minister and replacing her with Mark Drakeford. Two new faces joined Carwyn Jones' government: Ken Skates and Vaughan Gething became deputy ministers.
Chancellor George Osborne gave the Welsh Government a small increase of £104m over two years in his budget which also saw a planned fuel duty rise scrapped and help for people struggling to find mortgage deposits.
In other money matters, the Prime Minister wrote to Carwyn Jones telling him that he'd use the UK's ability to reprioritise its European aid so that Wales will suffer a smaller cut than expected in EU funding. By the time the EU budget was agreed in November, it was confirmed that Wales would get €2.1bn in aid from 2014 - 2020.
April
When Margaret Thatcher died, the First Minister paid tribute to her influence, without saying whether or not he thought it a good one:
Margaret Thatcher was a major force in British political life who undoubtedly had a significant influence on the political, social and economic landscape in Wales and the UK.

"There's no doubt about her personal achievement as the first woman to become British Prime Minister. Her place in the history books is assured.
– First Minister, Carwyn Jones AM

She divided opinion amongst Welsh politicians as much as she did in life. Tributes were paid in the Senedd although some AMs boycotted the session. Here's our report about Wales and Mrs Thatcher:

May

Voters on Anglesey chose new councillors in an effort to give the island's troubled council a new start. Plaid Cymru became the largest party but Labour councillors struck a deal to form an administration with independent members.

Plans to change the way Assembly members are elected and limits on access to the health service for migrants were two of the new laws affecting Wales announced in the Queen's Speech.

June

The Welsh Government's handling of funding for the All Wales Ethnic Minority Association showed weaknesses in its management of grants according to a Public Accounts Committee report.

Plaid Cymru and the Liberal Democrats agreed to join forces to force greater concessions from any budget negotiations with Labour in the Assembly.

Former Deputy First Minister and Plaid leader, Ieuan Wyn Jones, resigned to take up a post heading Menai Science Park. His departure sparked a by-election for his Ynys Môn seat.

Education Minister Leighton Andrews was forced to resign after he was criticised for supporting a primary school in his constituency, against his own policy of closures due to surplus places. He was replaced by Merthyr AM Huw Lewis.

July

Former Conservative minister Rod Richards confirmed he'd joined UKIP and was hoping to become one of the party's candidates for next year's European elections. He wasn't selected.

The Welsh Government set out its legislative programme for the coming year.

AMs voted on a bill giving the Welsh Government power over farm workers' pay and conditions in Wales. It follows the UK Government's abolition of the Agricultural Wages Board. The bill was later referred to the Supreme Court which will decide in February 2014 if the Assembly has the power to legislate on the matter.

August

Plaid Cymru held onto its Welsh Assembly seat of Ynys Môn following the by-election sparked by the decision of ex-Deputy First Minister Ieuan Wyn Jones to step down. Former BBC presenter Rhun ap Iorwerth polled almost three times more votes than his nearest rival, Labour's Tal Michael.

A Senior Conservative councillor in Newport, David Fouweather, told me the result should be a warning to his party leaders to 'wake up' to the concerns of traditional supporters. He said those supporters are turning to UKIP because they're concerned about further devolution to Wales.

Perhaps in response to those concerns, the Welsh Conservatives called for a return to 'grammar-style' schooling in Wales. If Tory supporters are concerned about more devolution, a poll for the Silk Commission wouldn't have eased their minds. It found that most people thought the Assembly should get more powers.

MPs returned to parliament and voted to prevent military action in Syria.

September

At the Liberal Democrat conference, party leader Nick Clegg, called for a plastic bag charge in England, praising the example set by Wales.

Former Shadow Welsh Secretary, Nigel Evans denied sex offence charges. The Swansea-born MP stood down as Deputy Speaker but remained as an MP.

October

Most Welsh MPs stayed in post in David Cameron and Ed Miliband's reshuffles. Caerphilly MP Wayne David became the Labour leaders PPS.

The Welsh Government published its draft budget after reaching a deal with Plaid Cymru and the Liberal Democrats. The Welsh Conservatives called it a 'bargain bucket deal' but Lib Dem leader Kirsty Williams said her party had used its influence well.

At Plaid Cymru's conference, leader Leanne Wood said her party would introduce a levy on sugary drinks if it is in government in Wales after 2016. It was quickly nicknamed 'a pop tax' by critics who questioned how it would work.

Ann Clwyd published her report into the way NHS complaints are handled in England and told me she hoped the Welsh Government will carry out an investigation into hospitals in Wales which have seen higher than average mortality rates.

November

After criticism of the UK Government for delaying its response to the Silk Commission's report on tax and borrowing powers, there was a sudden flurry of action in the autumn.

David Cameron paid a surprise visit to the ITV News studios in Cardiff to announce that the NATO summit will be held in Newport next year. He and the Deputy Prime Minister then confirmed new financial powers for Wales including tax and borrowing powers and the provision of a referendum which would pave the way for the transfer of some control over income tax.

The full package of further powers was set out later in the month in a joint Welsh and UK Government press launch and in a Commons statement.

We revealed that the Welsh Blood Service spent close to half a million pounds over the last six months buying in blood from other services, compared with just £63,000 in 2010/11

The First Minister travelled to Scotland to urge voters there not to split the United Kingdom in next year's referendum. His intervention was criticised by the SNP.

Education Minister Huw Lewis announced a review of universities and student tuition fees. Opponents criticised the fact that it won't report until after the 2016 election.

A Wales Audit Office report into the Welsh Government's policy of subsidising university tuition fees for Welsh students claimed the scheme cost 24% more than forecast. But the former Education Minister Leighton Andrews told us why he disputes that figure.

A new law came into force requiring takeaways, restaurants, pubs and anywhere else that serves food in Wales to display their food hygiene ratings at their premises.

The latest Programme for International Student Assessment Tests (PISA) revealed that Wales has fallen behind the rest of the UK significantly in reading, maths and science for the first time. Liberal Democrat Education Spokesman Aled Roberts said young people were being failed by the system.

Former First Minister Rhodri Morgan and his former Deputy Ieuan Wyn Jones reunited to tell a House of Lords committee about their experience of coalition government. Rhodri Morgan said nobody from Labour had contacted him for advice during coalition talks following the inconclusive UK election of 2010.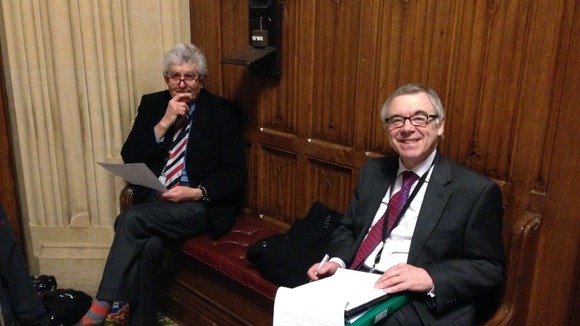 December
George Osborne's Autumn Statement delivered an optimistic forecast for the economy and a small net increase in the Welsh Government's budget. 'Thanks for nothing,' said the Shadow Welsh Secretary Owen Smith who claimed that increase would go near to balancing previous cuts.
The First Minister marked four years in the top job and reiterated his opposition to a referendum on transferring income tax without reforming the way Wales is funded. Carwyn Jones said it would be 'a trap.'
AMs interrupted their debates to stand silent in tribute to Nelson Mandela.
ITV teamed up with Cardiff University's Wales Governance Centre and You Gov to launch a new quarterly opinion poll to track the views of Welsh voters. The first results are here.
The Counsel General for Wales referred to the Supreme Court a bill which would force businesses to pay the costs of treating asbestos patients they'd employed. Representatives of the insurance industry had questioned the Assembly's power to introduce such a law.