A weightlifter from Holyhead who won Gold for Wales in the 1986 Commonwealth Games is helping to train up a new strong man; his father, who's about to turn 75.
Ray Williams is coaching his Dad to take part in the World Powerlifting Championships.
Nicola Hendy meets the father and son team hoping to lift another trophy.
I hold the world record in the squat, of 170 kilo, thats the world record that is in Ireland, I got that in Ireland and probably the weights I did there today will be the world record I would imagine in the over 75s

I've been at the game quite a while, I've been at the game 20 odd years and it's just strain, practice make perfect like you know"
– Doug Williams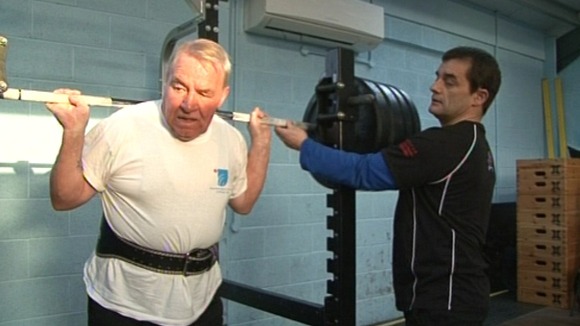 I think there's a genetic lineage to our family.

I think we've had lots of school boy champions... there's seven brothers and five of them were Welsh champions. I went on to obviously reach high levels of performance and my Dad obviously it was a blatant talent that he didn't start nurturing until he was in his fifties.

To be 75, weighing 85 kilos, backsquatting 330-350 lb is phenomenal.
– Ray Williams