Hundreds of people turned out in the centre of Risca this morning to welcome the latest Welsh troops to return from Afghanistan.
More than a hundred reserve soldiers took part, many of whom normally work in the Welsh NHS.
Mike Griffiths reports.
203 (Welsh) Field Hospital, which recruits entirely from within Wales, is one of ten Army Reserve field hospitals.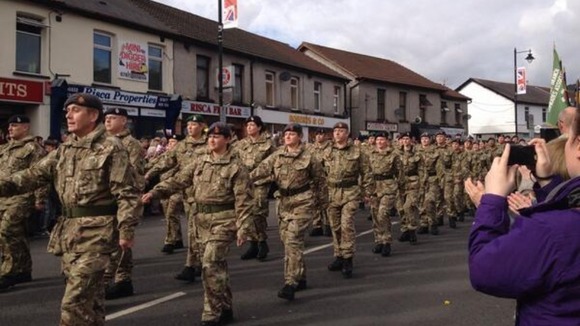 We couldn't have wished for a warmer welcome that we've had, and what's made it even more special is the vast number of the people that have turned out, with it being a special day in Wales with St David's Day.
– Capt Lyndon Davies
From our perspective, we're a medical unit, We'll be taking some the skills that we have learnt out in Afghanistan, into the Welsh NHS, and that's a key issue for me as a commanding officer, making sure that people reorientate back into home life, and also into their place of work."
– Col Tina Donnelly