Mum gives birth to surprise 6lb baby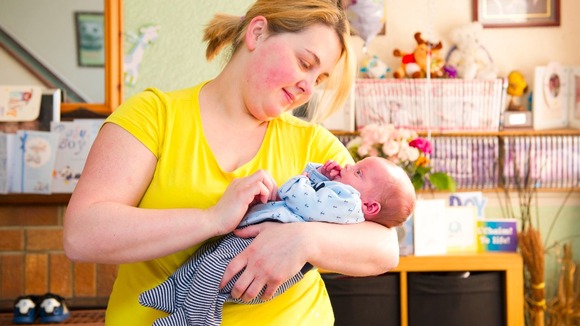 A supermarket worker from the Vale of Glamorgan had a surprise delivery - she gave birth to a bouncing baby when she didn't even know she was pregnant.
Gaynor Rzepka, 25, had been suffering with stomach ache when she came home from work.She went to bed early then woke up in the middle of the night with tummy ache and nipped to the loo.
Gaynor said she felt a strange urge to push, and was shocked when 6lb 50z baby Olly-James appeared.
I couldn't believe what happened next - I just sat on the bathroom floor with a baby in my arms.

My mum came in and said "It's a baby" and my dad was saying: "Don't worry, keep calm."
– Gaynor Rzepka

Gaynor and baby Olly-James were taken to hospital and were allowed home the next day after being checked over.

Gaynor has since described herself as the "world's most surprised mum".
I didn't have any signs, no morning sickness, no pain, no heart burn, nothing at all.

I didn't really put on very much weight until Christmas and I just thought that was over indulging a bit on turkey and mince pies.

I even ran a marathon when I must have been about five months into my pregnancy.
– Gaynor Rzepka

While the pair were in hospital Gaynor asked her mum to ring her partner Paul to break the news he had become a dad.Gaynor said: "He was just as shocked as me but he is totally over the moon about it."