Swansea dad's 'miracle escape' after being speared by railing in car crash
A Swansea man is recovering after a "miraculous escape" from a car crash that saw him speared through the body.
John Helliwell crashed while driving from Gowerton, where he lives with his wife and their four children, to Penclawdd early last month.
He also fractured his pelvis and suffered facial injuries in the accident – which also happened to be on the day of his wife's birthday.
A metal rail punched through John's back and out of his abdomen – but because the car was still moving it was pulled straight back out again.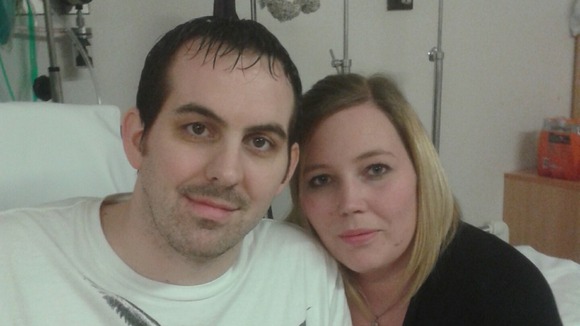 His recovery will be a slow one, but John remains positive.
I'm lucky to be alive. When they got me to the hospital it was touch and go for a while but the care I've received has been absolutely phenomenal.
– John Helliwell

Two women - one believed to be a nurse - discovered John and called an ambulance. Emma and John have not been able to trace them since but are keen to find them so they can thank them personally.

John was taken by ambulance to Morriston Hospital, where he underwent emergency surgery on arrival.

His wife Emma said surgeons told her could see the table through the hole going through him.
What went through from his back to his abdomen didn't hit a major organ or damage his bowel,which is incredible. It could have hit a blood vessel, but didn't.

It was bad enough but could have been a lot worse.

He has made really good progress. I think that is because he was a very fit young man.

He has really bounced back. He has been a great patient and well motivated in his rehabilitation.
– Dai Nguyen, surgeon