Lessons in rock music: Bridgend pupils taught how to form a band
The Easter holidays are not far away and for some children in Wales school breaks can be very rock and roll... and we don't just mean time off lessons and a lie in!
A group of musicians are taking their skills to disadvantaged pupils across the country to show them how forming a band can give them all sorts of benefits.
Hannah Thomas meets them.
It's a lot easier singing with other people because I get nervous when I'm on my own.

I'm not someone at all who will speak, stand out in a crowd and just getting the opportunity to sing with a band is amazing.

I've learnt how to work as part of a team because normally I don't - I keep myself isolated from other people.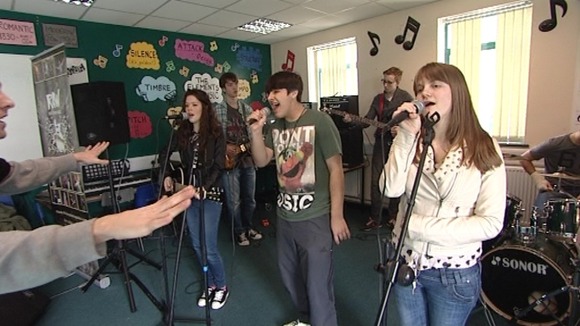 You see people coming in, their heads are down, their confidence is low. A

And as they gradually start to mix and find new friends and put bands together... I've seen groups this week already talking about continuing as a band and booking gigs and writing more songs.
– Andy Williams, music tutor