Is Bob the oldest Rubik's Cube player?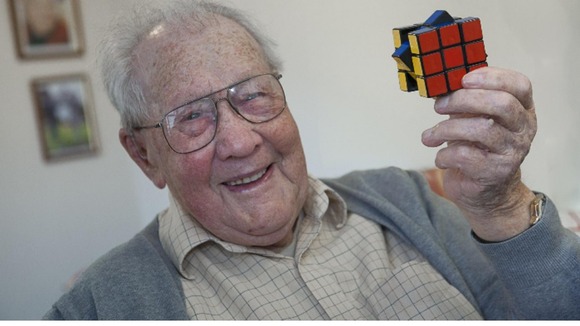 At 95-years-old, Bob Andrew could be the oldest Rubik's Cube player in the UK.
The retired BP engineer solves the puzzles every day to help keep his mind active.
The father-of-one got involved in the Rubik's Cube craze in the 1980s and has been hooked ever since.
The Rubik's Cube was all the go at the time. I had a go and was able to do it but it didn't come naturally - I had to struggle. But there were others who could do it fairly quickly. The quickest I would be able to do it is in about seven minutes.

I consider myself extremely lucky because there are many people who are younger than me who don't know what they're doing.

I also do crosswords and I also do Sudoku every day. Some of them are very difficult. It's something to keep my mind going.
– Bob Andrews

Bob lives at Pendine Park Hillbury care home in Wrexham. He's become a bit of a phenomenon among the staff there.
Bob is a remarkable man. I think it's very impressive. I can't do it. It's something he does every day and it helps keep his mind sharp as well keep the muscles in his hands active.
– Rebecca Griffith, the Deputy Manager of Hillbury