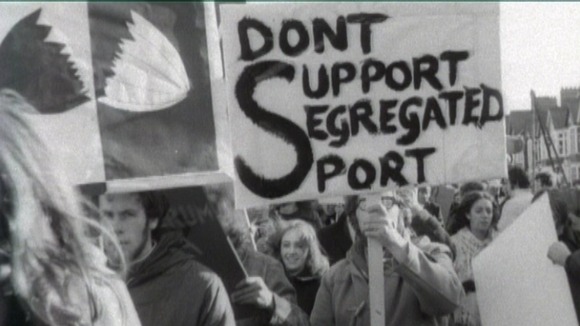 Wales This Week, 'Kicking it Out' is now available to watch online
During the apartheid era, any sporting contact with South Africa became highly controversial. Despite this, several so-called Rebel Tours had left the UK, sparking huge protests.
Twenty five years ago, one such tour saw ten Welsh rugby internationals and six Welsh Rugby Union officials fly out to South Africa as part of a World Fifteen rugby team. The tour had been organised independently of the WRU, who had never sanctioned the trip, but the backlash rocked the foundations of Welsh rugby.
For these guys to have gone in 1989 was just to give credence to apartheid.
– Hanef Bhamjee, Wales Anti Apartheid

At the time of the tour, the WRU had already put a stop to their own links with South Africa, but as an amateur sport with no contractual ties, they had been unable to prevent individual players from taking part
I guess as rugby players we felt that we shouldn't be impacted upon by political decisions that were out of our hands
– Paul Thorburn, Wales Captain 1989

It was a story that dominated the Welsh news and which ultimately lead to a number of high profile resignations from within the Welsh Rugby Union.

Tonight, Wales This Week looks back at the tour and the role it played in elevating the Wales Anti Apartheid movement to the world stage.

Wales This Week, 'Kicking it Out' is now available to watch online