Meet the Welsh scientists working on the European Extremely Large Telescope
It's being called Europe's Extremely Large Telescope and right now it's mostly a set of scale drawings - but in less than a decade it'll be a reality that scientists from St Asaph are helping to perfect.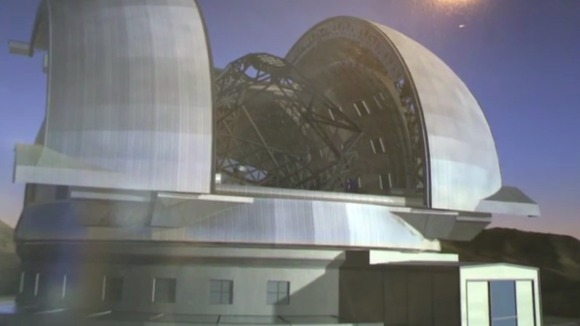 In Glyndwr University's laboratories, they're grinding out one of the most vital parts of the telescope - the optics that make up its lens - a massive task for what's one of the world's largest building projects.
Rob Shelley reports.
It'll be able to see the faintest object in the universe - which means the furthest objects away, the furthest back in time - so we'll be able to see the first stars or the first galaxies forming, which is quite something!
– Dr John Mitchell

Each panel costs a quarter of a million pounds.

Right now they're making seven as a test - but hoping to turn a project into effectively a production line creating over seven hundred lenses.

It will make a lattice of optics set to look further foward and back than any other telescope ever has.