Newport teen charged £180,000 for a pizza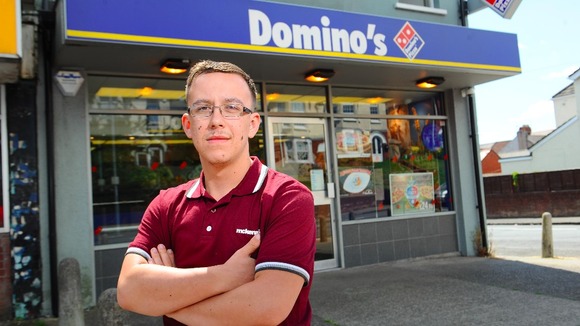 A Newport man was shocked after realising he'd been charged almost £180,000 for a pizza from his local Domino's.Nathaniel Bolwell ordered a large plain pizza from the branch on Chepstow Road in Newport and thought he had only paid £17.99 for the meal.
But when the 19 year old went to do his next shop, his card was declined. He checked his balance to find he was £179,020.80 overdrawn and he'd been charged £179,932.32 for his pizza.
I though I was about £400 in credit, but it told me I was massively overdrawn. I took a print-out of the statement and rang the bank straight away.

I knew it was wrong, but was terrified that I might have to pay it off or be put on a credit blacklist.
– Nathaniel Bolwell

Domino's and Lloyds Bank investigated the matter and the money was repaid two days later. Nathaniel was told that staff at the pizza place were given a bank card authorisation code of 3232 and it was accidentally added to the price of the pizza.
This was immediately flagged by our merchant provider due to the amount and reversal of funds was put in place. Unfortunately the payment was authorised by the customer's bank.

We understand that this has now been completely resolved and we apologise for any inconvenience caused.
– Domino's spokeswoman

Nathaniel has since been given £100 compensation from his bank which has also apologised for the incident.