Caerphilly couple give new meaning to 'pop in for a cuppa'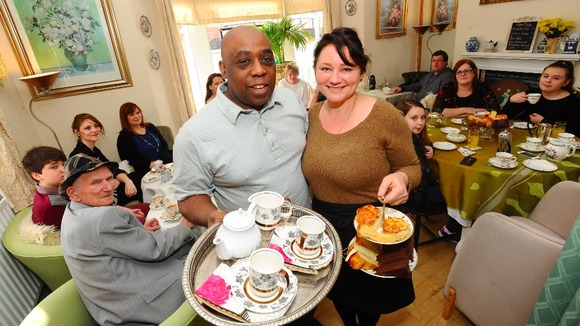 A Caerphilly woman is taking cafe culture to a new level by opening up her front room to friends and neighbours for tea and cake.
Cheryl Campbell, 53, was inspired to turn her living room into a coffee shop after a holidaymaker stopped her in the street asking where she could find a nice cuppa.
The mother-of-three was left with empty rooms after her children left home, so she decided to start her own coffee shop.
She got planning permission to change the use of the four-bedroom home she shares with husband Bryn and set to work ripping out bookcases and re-decorating to create the vintage-theme cafe.
It was a complete change to work for myself. It hasn't all gone smoothly but the highs far outweigh the lows. The harder times are worth it because it's all for me and my partner.

I've always loved cooking and playing hostess so it makes perfect sense. Now my customers call the cafe a home from home and it's fully every day.
– Cheryl Campbell.

The Front Room Cafe opened in March and already has a 4.5 star rating on the Trip Advisor website.