A woman went to her GP with a kidney infection and came out with a baby!
Clare Evans, 24, had no idea she was pregnant when complained of tummy ache. The NHS helpline diagnosed a suspected kidney infection - and Clare went to her local doctors's surgery in Newport for a check-up. But her waters broke and she went into labour in the surgery in front of the surprised GP.
Little Erin Louise Roberts was delivered by a surprised doctor at the surgery and tipped the scales at 6lbs 12oz, and is doing well. First-time mum Clare said she had no signs of pregnancy and had no bump, "It was a surprise but I can't find words to say just how thrilled I am."
Advertisement
A teacher who had his mobile stolen while on holiday in Barcelona faces a £15,000 bill despite telling the phone company that the calls were not made by him.
Osian Edwards from north west Wales says he is facing financial ruin after Vodafone insisted he pay for £15,000 made after thieves stole his phone.
He spoke to Good Morning Britain about how his life was "completely on hold" and how he feared his future would be ruined by huge bill.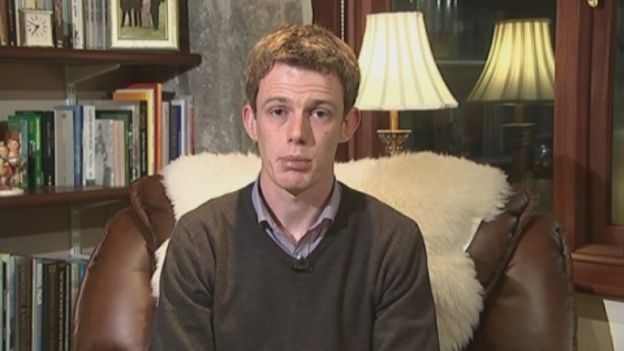 The 29-year-old was adamant he had called Vodafone to notify them of the missing phone as soon as he realised his mobile had been stolen.
Knowing pick pockets are a huge problem in Barcelona, Osian says he took his bank card and Vodafones phone emergency numbers with him, and used a local pay phone to report the theft.
He handed over his account details to the Vodafone call handler. But when he returned to the UK, and rang back with his handset (IMEI) number as requested, he was told that Vodafone had no record of him cancelling.
His itemised bill, totalling £15,031.08, (now deducted to just over £10,500) shows his sim card was used to make calls to just two Spanish numbers - thought to be charged at premium-rate tariffs - throughout the night. Calls were made at a rate of more than one a minute at a cost of up to £20 a call.
Glaciologists from Aberystwyth University will fly to Antarctica at the beginning of November to study large lakes forming on the surface of ice shelves.
Professor Bryn Hubbard and Dr David Ashmore from the Department of Geography and Earth Sciences' Centre for Glaciology will be working with collaborators from Swansea University on the Larsen C ice shelf.
Larsen C covers an area two and a half times the size of Wales
It's a long, fringing ice shelf in the northwest part of the Weddell Sea, extending along the east coast of the Antarctic Peninsula.
Professor Hubbard and Dr Ashmore will be using hot water to drill up to 150m down into the 200m deep ice shelf to study the many layers of ice that make up Larsen C.
The ice shelf is significant for scientists trying to understand the effects of climate change on Antarctica.
Two other ice shelves in the area, Larsen A and B, have broken up and disappeared since 1995 and scientists have been trying to understand why.
Steam-hauled trains will arrive at a temporary platform at Dwyrain Corwen East today, for the first time in almost fifty years.
The special trains are part of celebratory events to mark completion of the first phase of an extension project on the Llangollen Railway.
Passenger trains have not arrived at Corwen since December 1964, just before the line was formally closed by British Railways in January 1965.
American technology company Alert Logic will officially open its new European headquarters in Cardiff later.
The state of the art Security Operations Centre will create around 130 highly skilled jobs, replicating the company's current security operation centre in Texas.
Part of Alert Logic's services include defending against complex global IT security threats.
The investment has been backed by £1.15million of business finance from the Welsh Government, and will enable the company to expand into the European, Middle East and African markets.
Read more: US firm to create 130 jobs in Cardiff and Newport
Advertisement
New Cardiff boss Russell Slade says he's not surpassing any of his own expectations following his 100% start to life in the Welsh capital.
The Bluebirds made it two wins from two under the guidance of the former Leyton Orient manager last night - their 3-1 win coming on the back of victory over Nottingham Forest on Saturday.
And Slade says he's not been surprised by the ease with which he's adjusted to life in the Championship.
Following the win Cardiff moved up to 10th in the table and are within three points of the play-off places.
Schools in Wales are to receive two new resources aimed at encouraging safe and responsible internet use for pupils.
The resources, which have been created based on others in use across the UK and globally, will be formally launched later by the Minister for Education and Skills, Huw Lewis AM.
One is a self-assessment tool that allows schools to judge and improve their online safety, while the other is a resource pack for teachers, which aims to help them in teaching their pupils about the importance of responsible online use.
These two resources, uniquely produced for Wales, will be available to all schools across Wales to use and hope to help schools improve their e-safety, as well as developing digital literacy skills in their pupils.
The Commons Welsh Affairs Committee has today called for more to be done to encourage international tourists to visit Wales.
In a report the committee claims Wales lacks a 'coherent brand' for the overseas market, and must be marketed more vigorously.
A spokesperson for the Welsh Government however said current strategies were delivering strong results for Wales.
The First Minister and deputy First Minister of Northern Ireland are due to hold talks with the Welsh First Minister later today. Peter Robinson and Martin McGuinness will discuss co-operating with Carwyn Jones to seek more devolution following the promises that have been made to Scotland.
The Scottish First Minister, Alex Salmond, is not expected to be present as he is preparing to hand over to his successor, Nicola Sturgeon. Once Sturgeon is in post, Welsh and Northern Irish leaders will look to discuss devolutions matters with her.
Load more updates
Back to top