Throughout the summer, "undercover" family judges will visit each shortlisted museum and judge it for its family friendly qualities.
Read the full story ›
During the past five months police have received reports of 10 thefts or damage to the flowers in and around the town.
Read the full story ›
Advertisement
A south Wales postman has been celebrating today after winning £2.6 million in the Lotto Jackpot.
Matthew Evans, 35, from Barry won a total of £2,604,015. The postman is planning on spending his winnings on watching sport, including taking his father to the Monaco Grand Prix.
A postman from Barry will be celebrating this morning after winning £2.6 million on the Lotto Jackpot.
After finding out about his big win, the postman says he will be buying a new house and a car to celebrate.
A bride has been reunited with the woman who helped her stranded bridesmaids get to the church on time after their car broke down.
Read the full story ›
"Woody" the prize-winning cowboy scarecrow is missing - presumed stolen. It's the second scarecrow theft to hit village in recent weeks.
Read the full story ›
Advertisement
Bethany Mouatt's bridesmaids had to hitch a lift to get them to the church on time when their car broke down.
Read the full story ›
A charity that helps people from disadvantaged backgrounds across South Wales by training them up as beauticians has now launched a mobile nail bar.
Organisers hope the new project will help to bridge the gap between training and work experience.
George Zielinski has more:
A south Wales charity has launched a new mobile nail bar, thought to be the first of its kind in Britain.
Read the full story ›
Tributes have been paid to Welsh actor Roger Rees, who has reportedly died at the age of 71.
The Aberystwyth-born Rees, best known for his roles in the West Wing and Cheers, also won Tony and Olivier Awards in 1982 for his role as the title character in the Royal Shakespeare Company's The Life And Adventures Of Nicholas Nickleby.
He was familiar to television audiences as Robin Colcord, a millionaire love interest for Rebecca Howe, played by Kirstie Alley, in 1980s comedy Cheers and more recently as British ambassador Lord John Marbury in cult US political drama The West Wing from 2000 to 2005.
Among his other credits was an appearance as the Sheriff of Rottingham in Mel Brooks' slapstick comedy Robin Hood: Men in Tights in 1993.
Musician Rick Wakeman called Rees "a lovely man", with actor and director Samuel West called him "a sweet prince".
Very sad to learn of the passing of Roger Rees. I saw him last year at a Water Rats Lodge . A truly lovely man and very talented too.
And as a beautiful RSC Hamlet in 1984, Kenneth Branagh as Laertes. Goodnight, sweet prince. http://t.co/6ovO2rdmi8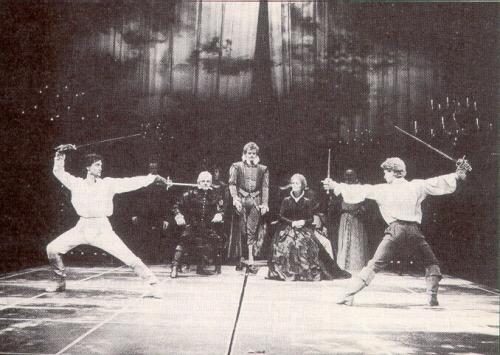 Rees, originally an artist, turned to acting in the 1960s.
Reports in the US, where he had lived for more than 25 years, said he had died after a short illness. He is survived by his husband, the playwright Rick Elise.
Load more updates