Hundreds of keen runners, families and friends are joining in the festive fundraising fun and donning their best Santa suits to chase a Christmas pudding around Cardiff Castle in support of the British Heart Foundation.
This morning I've been interviewing a Christmas pudding. A running Christmas pudding... http://t.co/qij6mAmc9e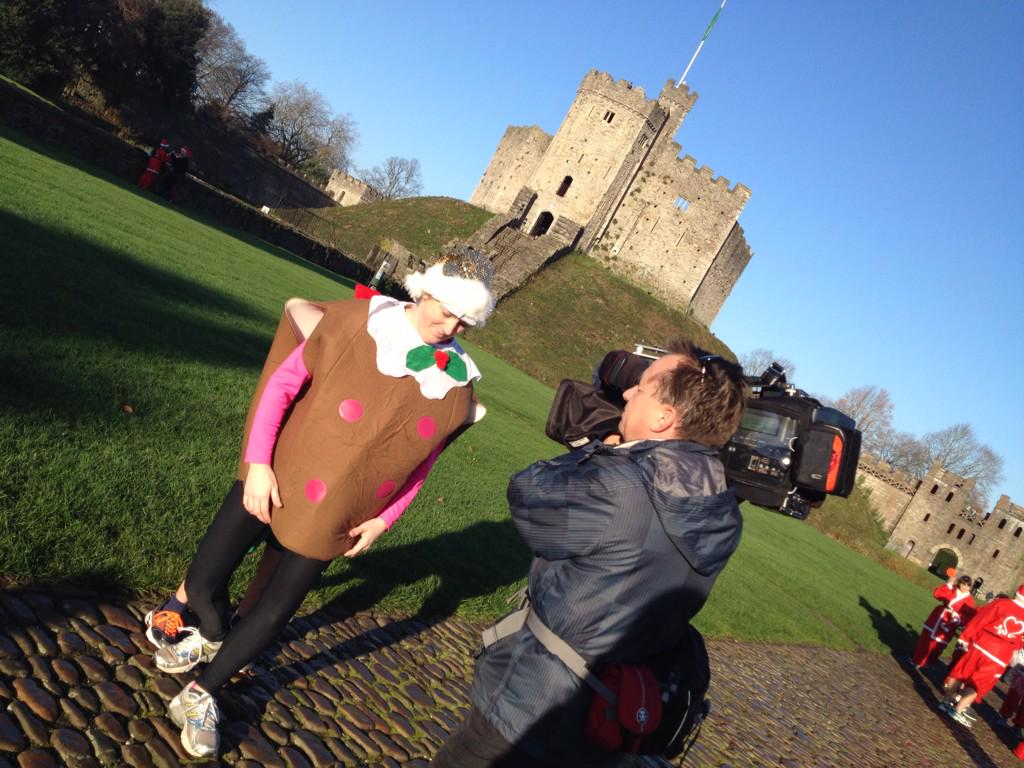 Now in its 10th year, the 'Chase The Pud' event is being held to increase awareness of BHF Cymru's lifesaving work and raise vital funds.
Leading the race will be Caerphilly mum of two, Laura Lees, a former keen runner who was diagnosed with a serious heart condition and feared she would never be able to run again.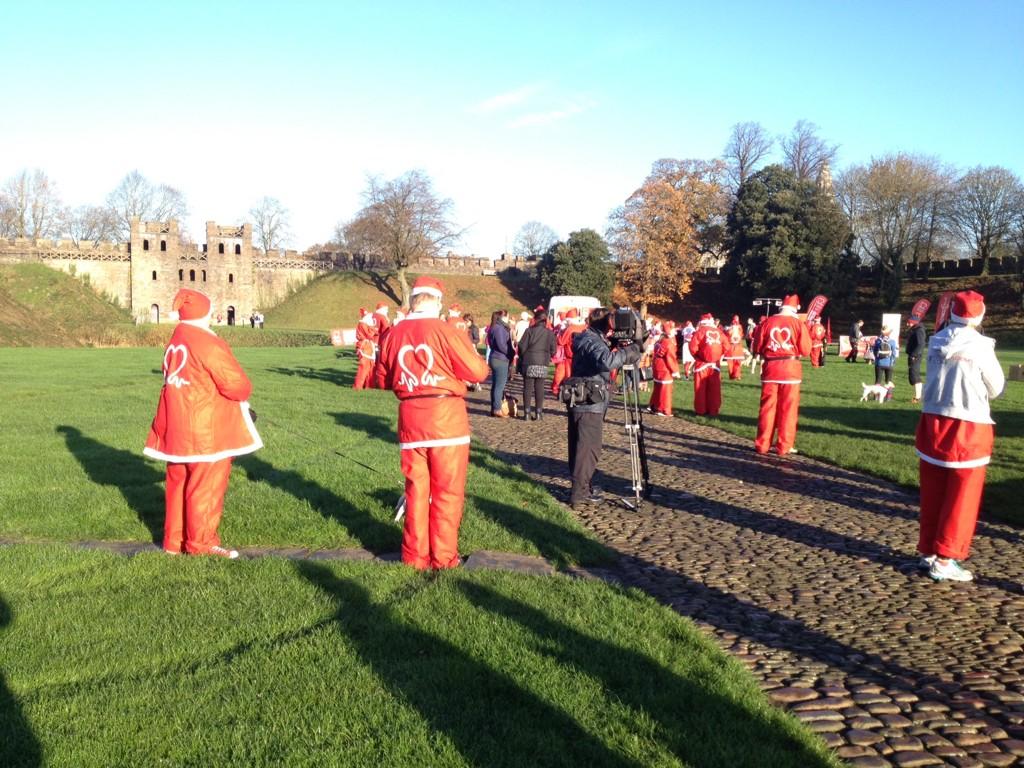 Also in attendance will be inspirational Llanishen resident and formidable fundraiser Dennis Jones, who is yet to miss a single Chase The Pud event, and at 79 is the reigning oldest participant.
Catherine Campbell, Local Fundraising Manager for BHF Cymru said:
"We are calling on as many people as possible from Cardiff and its surrounding areas to take part in our 2014 Chase The Pud event and help to support BHF Cymru's life saving work".
"Now in its 10th year, this event is always a highlight in our local events calendar and is a fun and festive day out for all ages. It's always a fantastic sight to see hundreds of Santa's take over Bute Park, and this year we will also be awarding a special prize for the best children's fancy dress costume".
A Welsh furniture store has created a real stir online, with a parody version of John Lewis' famous Christmas advert.
Staff at Pieces for Places in Barmouth put their own twist on Monty the Penguin, in a video filmed around the seaside town.
Their advert didn't cost anywhere near as much as the real thing - and their penguin certainly wasn't as lifelike - but they say it was a lot of fun and has got a great reaction.
Advertisement
A bauble-loving grandmother has a record-breaking 2061 festive balls hanging from her Welsh living room ceiling.
Read the full story ›
A blue plaque will be unveiled today at Middleton Hall Cottage near Rhossili to mark the birthplace of Welsh polar explorer Edgar Evans.
Edgar Evans was born in 1876 and was one of just five in Captain Scott's expedition party to reach the South Pole in 1912.
Upon arrival they found they had been beaten by Norwegian explorer Roald Amundsen's group by 33 days.
All five later died from a combination of starvation, exhaustion and extreme cold on their return from the Pole. Gower-born Evans died at the foot of the Beardmore glacier exactly a month after reaching the Pole.
Now a century after the explorer left for the pole, a blue plaque will be unveiled to celebrate his life and achievements.
A 'rare' sponge crab has been found three miles off the coast of Barmouth.
The bizarre-looking crustacean was hauled up in the pots of lobster fisherman Richard Workman and has been donated to an aquarium.
The Blue Planet Aquarium says the crabs get their name because they hold living sponges, which they also cut to fit, on top of their shells as a way of camouflaging themselves from would-be predators.
Staff say they're more commonly seen off the West coast of Africa or in the Mediterranean.
But in recent years their numbers have been increasing in British waters and they may now be permanent residents around our coasts.
"We're very grateful to the fisherman for donating it to us. They really are amazing creatures and this one is a particular fine specimen, measuring around 10cms long.

Sponge crabs have two pairs of modified legs tipped with needle-like pincers which they use to secure sponges which sit on their backs. They are quite adept at moving sponges over the whole of their body to enable them to hide.

However, this means that they only have two pairs of legs to walk on so they tend to also use their front claws to assist them with walking.

Their bodies, claws and legs are completely covered in a thick furry 'felt' except for the tips of their claws which are a vivid 'rose pink'!
– Stacy Adams, Blue Plant Aquarium
Bassey, 77, says she had always been unhappy with her vocals on the theme song from the 1964 Sean Connery film.
Read the full story ›
Advertisement
There's an animal in virtually every room at Jordan Ryan's house, with even more outside.
Read the full story ›
It's beginning to look a lot like Christmas in the Mid Wales village of Abbey-Cwm-Hir.
Read the full story ›
Ever wondered what you get when you cross a donkey and a Shetland pony? Wonder no more...
Read the full story ›
A former soldier has covered his pizza shop with hundreds of poppies - in his own takeaway version of the remembrance poppies at the Tower of London.
Ex-commando Kevin Halborg asks each customer at his seaside pizza hut to make a donation to the poppy appeal. And now he has pinned more than 1,000 poppies to the outside walls in his own "war and pizza" tribute to the fallen.
We saw what was going on at the Tower of London and wanted to do our bit. Customers are happy to make a donation to the Poppy Appeal and then fix their own poppy on the outside. It looks tremendous - we want to plaster the outside by the weekend.
– Kevin Halborg
Kevin runs the Pizza Pronto hut at Penarth, near Cardiff, and reckons his poppy tribute will take some topping.
Load more updates