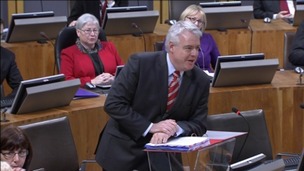 Our weekly look at First Minister's Questions.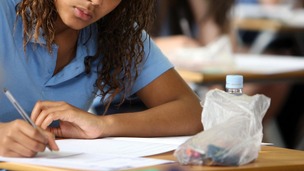 Visit the OECD's website to try some sample questions.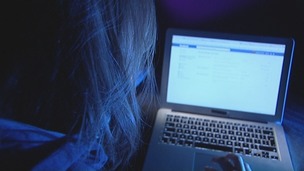 A survey has revealed 70 per cent of youngsters have been bullied online - sometimes with devastating consequences.
Live updates
Progress made in Welsh lessons
The Foundation Phase is a vital part of developing young children's skills in speaking, reading and writing in Welsh.

We have found that the rate at which children acquire Welsh language skills is affected by whether or not children are learning alongside others who share similar backgrounds in home language.

Our report shows that in classes with mixed linguistic backgrounds, children from non-Welsh speaking homes sometimes progress too slowly and the progress of pupils from Welsh-speaking homes can be hindered.
– Ann Keane, Chief Inspector at Estyn - Education watchdog
Progress made in Welsh lessons
More than 80 per cent of children aged 3 to 7 are making good progress in learning Welsh as a first language in Welsh-medium schools.
A report out today by education watchdog Estyn also reports standards in pupils' language, literacy and communication skills are similar to those in English-medium schools, and are in line with the expected level at that age.
The new report, Welsh in the Foundation Phase, considers standards in developing language in Welsh-medium schools taking into account whether pupils come from a Welsh-speaking home or not.
It also considers the balance between formal language development and informal activities which is a core part of the Foundation Phase approach to teaching and learning.
Advertisement
Wales' PISA rankings worst in UK
Michael Davidson from the OECD - the organisation behind the PISA survey - says pupils' social background is not a leading factor in educational performance in Wales.
Mr Davidson said: "Unlike in some countries where your social background really makes a difference to your success in education, that's not such an issue in Wales. It's more of a challenge to address the under-performing students."
Wales' PISA rankings worst in UK
Shadow Welsh Secretary, Owen Smith, has described the PISA results for Wales as 'disappointing' but says that 'the Welsh Labour Government has already recognised the scale of the challenge we face and has put in place the measures required to turn things around.'
He added that
The response of the Welsh Government to today's results has been honest, serious and long-sighted, in contrast to the short term, party-political points which Conservative UK Cabinet Ministers have sought to make today. Using the education of Welsh pupils, striving for attainment in some of the most challenged and deprived communities of Britain, as a means to score points off the Labour Party, is a cheap trick which will be seen for what it is by the Welsh people.
– Owen Smith MP, Shadow Welsh Secretary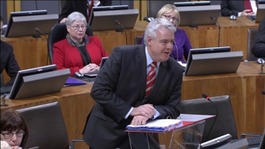 Wales' PISA rankings worst in UK
There are two problems for the Labour politicians running the Welsh Government. Firstly it is they who made PISA results such an important measure of progress in education and it's they who have been in charge of education here since the Assembly began, even when it was run by coalition governments.
The first is why the First Minister and Education Minister made no attempt to portray the figures as anything other than a disappointment. The second explains why opposition parties joined forces in the Senedd in a rare concerted attack on the First Minister. But watch Westminster closely too.
You'd expect Tory MPs to pin the blame on Labour. But it was Labour's Shadow Education Secretary who said that 'Wales has some difficult questions to answer' and some Welsh Labour MPs are also privately worried. You can be certain that they'll let their Cardiff colleagues know their concerns.
Advertisement
Wales' PISA rankings worst in UK
Owen Hathway, Policy Officer for NUT Wales, says today's PISA results are 'disappointing' but 'not unexpected'.
He added: "While they are a snapshot, and an important one, they probably don't accurately reflect the entire system as it is - and certainly not as it's going to be, once the reforms that were previously brought in are bedded in effectively."
Wales' PISA rankings worst in UK
First Minister Carwyn Jones has acknowledged that the PISA results for Wales are 'not good enough.' Responding to criticism from opponents during First Minister's Questions, he listed reforms that the Welsh Government had introduced since the last set of PISA figures.
But he agreed the figures were 'disappointing' and accepted the need to improve but said it will 'take some time for these measures to bear fruit.'
Wales' PISA rankings worst in UK
Welsh Conservative MP Alun Cairns described Wales' PISA results as 'nothing short of a scandal' and said that 'parents across Wales are genuinely worried about their children's education.'
Education Secretary Michael Gove said that Wales was like a 'control sample' in an experiment, saying that Wales is
almost an object lesson in what happens when you abandon reform and succumb to the NUT orthodoxy which has suffocated education in the Principality.
– Michael Gove MP, UK Education Secretary
Wales' PISA rankings worst in UK
National
Schools in Scotland came out top in maths and reading in the UK, whilst schools in England led the way in science.
Overall:
Scotland scored 498 points
England scored 495 points
Northern Ireland scored 498 points
Wales scored 480 points
Reading:
Scotland scored 506 points
England scored 500 points
Northern Ireland scored 498 points
Wales scored 480 points
Science:
England scored 516 points
Scotland scored 513 points
Northern Ireland scored 507 points
Wales scored 491points
Load more updates