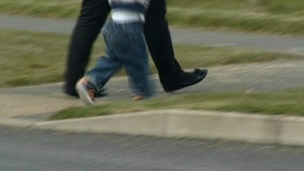 A community in Llangefni says it faces a postcode lottery for nursery spaces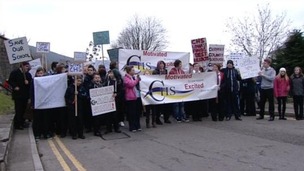 More than five hundred parents and pupils have marched through Cwmcarn in a bid to see their school reopened after an asbestos scare.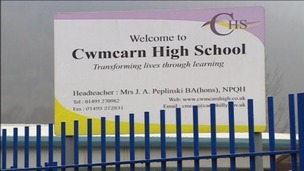 Parents of pupils at Cwmcarn High School, closed over asbestos fears, say they believe the council wants to shut the site for good.
Live updates
Gove letter urges exam split
'Urgent steps' needed for exam confidence - Plaid
Plaid Cymru's Education spokesperson, Simon Thomas, says the Gove letter has highlighted the need for urgent action by the Welsh Government to ensure confidence in an increasingly distinct Welsh exam system.
I have tabled an emergency question in the Senedd to get a discussion on the next steps for Wales. The Welsh Government must take urgent steps to ensure confidence in the system. Plaid Cymru is calling for the creation of Examinations Wales as an independent regulator as soon as possible to ensure confidence in the system and ensure standards do not fall.
– Simon Thomas AM, Plaid Cymru Education spokesperson
Gove letter urges exam split
Minister's twitter 'spat' was 'unbecoming' says Lib Dem leader
The Education Minister should 'stop having spats on Twitter' and concentrate on improving education standards, according to the leader of the Welsh Liberal Democrats. But Kirsty Williams said she's 'relaxed' as a politician and as a mother, about the prospect of different exams in Wales and England.
Her comments follow a letter sent to Leighton Andrews by the Education Secretary Michael Gove suggesting that a separation of the exam system was now inevitable because of changes being looked at in the two countries. Kirsty Williams said it's 'perfectly possible' to have a credible Wales-only exam.
But she attacked as 'unbecoming of a government minister' the decision of Mr Andrews for taking to Twitter to respond to criticism from UK Government sources. She said 'sometimes it seems Leighton Andrews would rather spend his time having a row on twitter than concentrating on his job.'
Advertisement
Gove letter urges exam split
Urgent Question in the Assembly on Gove letter
Education Minister Leighton Andrews will face an urgent question in the Assembly on the letter from Education secretary Michael Gove. The Presiding Officer Rosemary Butler has allowed the urgent question to be raised in this afternoon's session.
Gove letter urges exam split
Wales-only GCSEs could push standards up - Plaid
A senior Plaid Cymru politicians says different exam systems in Wales and England could lead to higher standards in Wales. Rhodri Glyn Thomas was responding to the news of Education Secretary Michael Gove's letter to his Welsh and Northern Irish counterparts suggesting a split is on the cards.
The Plaid AM said he 'would welcome the opportunity to separate the exam system in Wales' from that of England and he rejected claims that it could lead to reduced standards, saying
I don't think it necessarily would lead to a situation where standards drop. I would hope it would lead to a situation where standards would rise.
– Rhodri Glyn Thomas AM, Plaid Cymru
Gove letter urges exam split
Education minister: 'Wales will continue to have GCSEs'
The Education Minister, Leighton Andrews AM, has taken to Twitter this morning over the future of exams in Wales.
Read more: Gove letter may herald exam split
One of the benefits of devolution is that it allows England to be a laboratory for experiments.
From
@LeightonAndrews
on Twitter:
For the avoidance of doubt, Wales will continue to have GCSEs, A Levels and AS Levels. So will Northern Ireland. I don't know about England.
From
@LeightonAndrews
on Twitter:
Gove letter urges exam split
Wales won't give up exam titles without a fight
Michael Gove's letter as reported in the Guardian contains the suggestion that Wales and Northern Ireland may have to give up the titles 'GCSE' and 'A-level' if the systems are to diverge. The Welsh Government's official response is terse.
Wales is keeping GCSEs and A-levels, as is Northern Ireland. We wish Mr Gove well with his plans to rename these qualifications in England.
Advertisement
Gove letter urges exam split
Welsh Education minister responds to Gove letter leak
by Adrian Masters
Michael Gove's letter, which I understand the Welsh Government received this evening, marks acceptance by the UK Government of the of growing differences in the exam systems of the nations of the UK. Its tone is respectful and matches what sources described of the tone of last week's meeting.
But there's a more critical tone to remarks attributed to a 'Whitehall source' in the Guardian article who's quoted as saying:
The Welsh are determined to keep dumbing down their exams. Leighton Andrews interfered with exam boards last year. He opposes our attempts to toughen things up and made clear he will continue to interfere to make things easier. It's better that we all go our own way and defend our positions to our electorates.
Welsh Education Minister Leighton Andrews has taken to Twitter this evening to condemn those remarks.
So, @JohnODowdSF (Northern Ireland Education Minister) and I have a cordial meeting with Michael Gove in which he agrees to respect the different decisions in different countries

And a week later Whitehall sources, quoting directly from a comment in the meeting, start being offensive again.

So, for the record, I am happy to confirm that in that meeting Michael Gove apologised to me for his behaviour.
– Leighton Andrews AM, Education Minister (via Twitter)
Gove letter urges exam split
Gove letter may herald exam split
The Education Secretary Michael Gove has written to the Welsh and Northern Irish Education ministers saying that 'the time is right' for the exam systems in Wales, England and Northern Ireland to separate. The Guardian reports that in the letter follows last week's meeting between the three men.
Truancy fines plan criticised
Tories fear truancy fines will hit most vulnerable
The Conservatives have also criticised a Welsh Government decision to push ahead with plans to fine parents of persistent truants.
This is a lazy Labour government piling all its eggs into a basket of punishment – at the expense of support and liaison.

There is a real danger that these fines will hit the most vulnerable hardest and ignore the real reasons behind truancy.

I fear fines will stack up while behaviour remains largely unchanged.

Low school attendance can have a hugely detrimental impact upon a child and Labour Ministers should be working hard to tackle the problem at its root causes.
– Angela Burns AM, Shadow Education Minister
Truancy fines plan criticised
Truancy fines condemned as backwards step
Plaid Cymru has criticised Welsh Government plans to impose fines on parents whose children repeatedly play truant as a 'retrograde step.'
They have not worked when they were introduced in England. The Education Minister needs to state where any money raised will go.

A Plaid Cymru Government would consider approaches such as the use of home school liaison officers to tackle absenteeism, so policies support pupils and their families, rather than penalise them by fining them. There is a correlation between areas of high deprivation and high levels of absenteeism.
– Simon Thomas AM, Plaid Cymru Education spokesman
Load more updates