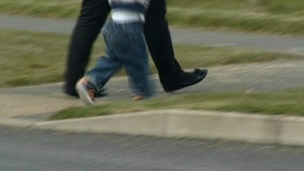 A community in Llangefni says it faces a postcode lottery for nursery spaces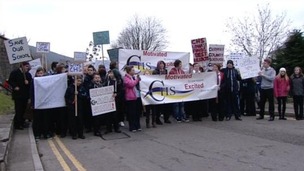 More than five hundred parents and pupils have marched through Cwmcarn in a bid to see their school reopened after an asbestos scare.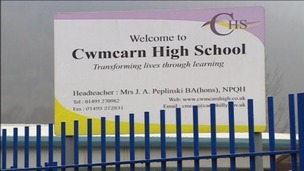 Parents of pupils at Cwmcarn High School, closed over asbestos fears, say they believe the council wants to shut the site for good.
Live updates
Truancy fines plan criticised
Tories fear truancy fines will hit most vulnerable
The Conservatives have also criticised a Welsh Government decision to push ahead with plans to fine parents of persistent truants.
This is a lazy Labour government piling all its eggs into a basket of punishment – at the expense of support and liaison.

There is a real danger that these fines will hit the most vulnerable hardest and ignore the real reasons behind truancy.

I fear fines will stack up while behaviour remains largely unchanged.

Low school attendance can have a hugely detrimental impact upon a child and Labour Ministers should be working hard to tackle the problem at its root causes.
– Angela Burns AM, Shadow Education Minister
Truancy fines plan criticised
Truancy fines condemned as backwards step
Plaid Cymru has criticised Welsh Government plans to impose fines on parents whose children repeatedly play truant as a 'retrograde step.'
They have not worked when they were introduced in England. The Education Minister needs to state where any money raised will go.

A Plaid Cymru Government would consider approaches such as the use of home school liaison officers to tackle absenteeism, so policies support pupils and their families, rather than penalise them by fining them. There is a correlation between areas of high deprivation and high levels of absenteeism.
– Simon Thomas AM, Plaid Cymru Education spokesman
Advertisement
Truancy fines plan criticised
Go-ahead for plan to fine parents over truancy
The Welsh Government wants to introduce fixed penalty notices for persistent truancy from 1 September.
It has published responses to a consultation which ended in February.
Education Minister Leighton Andrews put forward last November his plan for fines of up to £60 for the parents of children who regularly miss school, rising to £120 if not paid within a month.
Read More: Education Minister calls for fines for parents of regular truants
Education rally in Cardiff
Hundreds gather at Cardiff education rally
Welsh teachers have packed a conference hall in Cardiff to speak out over pay and working conditions in the profession.
Speakers from the main teaching unions NASUWT and NUT also said they wanted to 'defend' the education system here, which they claim politicians 'are determined to wreck'.
The Welsh Government says measures have been put in place to raise standards and performance, but added issues concerning pay and conditions are a matter for the UK Government as they are not devolved to Wales.
UK Education Secretary Michael Gove has said he's striving to achieve higher education standards through his policies.
Today's rally was held ahead of planned industrial action later this year.
Education rally in Cardiff
Welsh Government: 'School standards must improve'
There can be little argument that standards and performance in schools in Wales need to improve. The PISA results in 2010 along with evidence from Estyn and exam results confirm the urgency.

The Minister has put in place a number of measures to raise standards and performance in education across the board. We will continue to implement these measures to raise literacy and numeracy levels and cut the link between poverty and low attainment.

We must act for the benefit of our learners.
– Welsh Government spokesperson

On the subject of pay and conditions for teachers, the Welsh Government stressed that the issue is not a devolved matter in Wales, adding: "The issues Unions have on this matter are for the UK Government."
The Minister for Education and Skills has made it clear in his evidence to the School Teachers' Review Body (STRB) that he does not believe a link between pay progression and performance is necessary where an effective system of managing performance is already in place.

He has also consistently stated that we should retain a national pay structure for teachers in Wales and England. Such a system ensures fairer, more equitable and more cost effective way of administering pay than one where pay is determined locally.
– Welsh Government spokesperson
Education rally in Cardiff
Teaching unions hold rally to 'defend' education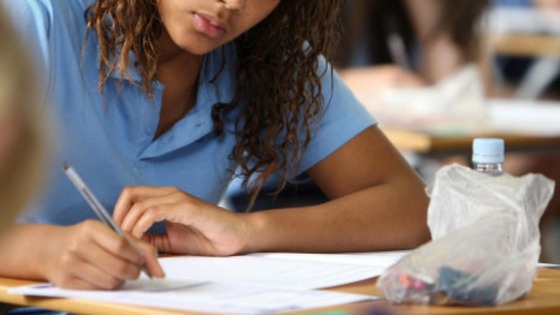 Parents, teachers and governors are coming together for a rally in Cardiff today as part of a campaign to 'defend' the education of children and young people.
Organised by the NASUWT and NUT, the Rallies for Education are part of the two unions' campaign of industrial action which will include a 'rolling programme' of strike action at the end of the summer and into the autumn in England and Wales.
Chris Keates, NASUWT general secretary, said: "These rallies for education are being held in defence of our world-class public education system, which politicians seem determined to wreck."
The rally will take place in Mary Ann Street from 12pm.
Advertisement
Blaenau Gwent schools criticised
Report: Inspectors critical of Blaenau Gwent schools
Inspectors say Blaenau Gwent's education services are still unsatisfactory, two years after it was put into special measures.
The council says there's been limited time to deliver progress since it was first put in special measures but there are signs of improvement, as Hannah Thomas reports.
Blaenau Gwent schools criticised
Welsh Government: 'Very concerned' over Blaenau Gwent school standards
The Welsh Government says it's concerned about the slow change of pace to improving education standards in Blaenau Gwent. The council's education services were placed in 'special measures' in 2011.
Today a report by the education inspectorate Estyn says standards are still 'unsatisfactory'.
We are very concerned by Estyn's findings. Performance at the local authority continues to be unsatisfactory and disappointing. The Minister will make a statement to Assembly Members to outline the actions we will be taking with regard to Blaenau Gwent.

"The Minister will meet the Commissioner on Monday. We know she has serious concerns about the pace of change in the local authority and we will discuss the best way forward
– Welsh Government spokesperson
Blaenau Gwent schools criticised
Blaenau Gwent Council: 'there are signs of improvement'
Whilst the overall judgement of the report was unsatisfactory it has to be recognised that there has been limited time since the Council was first placed in special measures in September 2011 to deliver progress in many areas.

There are signs of improvement. As a result of the work that the Council and the South East Wales Education Achievement Service (EAS) has been undertaking the Council has more accurate information on schools' performance and is beginning to use the data more systematically.
There has also been good progress in improving attendance in Blaenau Gwent schools. An action plan needs to be prepared now that the Council's inspection report has been published by Estyn today.
– Blaenau Gwent Council spokesperson
Blaenau Gwent schools criticised
School improvements in Blaenau Gwent 'too slow'
The education system in one of the poorest parts of Wales is to remain in 'special measures' as education standards are still 'unsatisfactory'.
The school's inspectorate for Wales, Estyn has released a report today which lists a catalogue of failings which include:
Standards of attainment are unsatisfactory, particularly in secondary schools
The number of days lost to exclusion are increasing
Initiatives for school improvement are too fragmented
leadership has not generated improvements in areas of underperformance
The report does say attendance rates in primary schools are above average but the capacity to improve overall is unsatisfactory because:
The leadership of local authority services for children and young people continues to be unstable; the pace of action to bring about improvement has been too slow in the past to assure inspectors that improvement will take place without continued external support and challenge
– Estyn
Load more updates