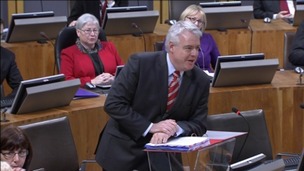 Our weekly look at First Minister's Questions.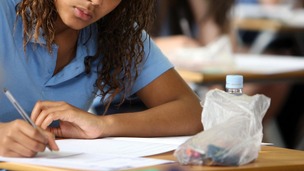 Visit the OECD's website to try some sample questions.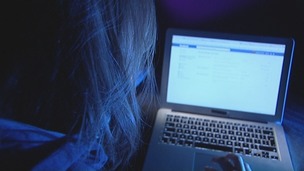 A survey has revealed 70 per cent of youngsters have been bullied online - sometimes with devastating consequences.
Live updates
Wales' PISA rankings worst in UK
The Acting Director of the National Association of Head Teachers says Wales must pull together in the wake of its poor PISA results.
As expected, Wales has fallen further in the PISA rankings. This is no time for finger-waving or point-scoring between the parties. What is most noticeable about the education system in Wales has been the remarkable degree of political consensus across the parties since devolution. We are all in this together and it's about time we started working together to put it right.
– Dr Chris Howard, Acting Director, NAHT Cymru
Wales' PISA rankings worst in UK
UK Education Secretary Michael Gove has pinned the blame for Wales' poor performance in the PISA results on Labour Welsh Governments. He told MPs that 'if you want to know what our education system would look like [under Labour] you only need to look over the Severn Bridge.'
But Labour MP Huw Irranca-Davies criticised the Education Secretary for that response. The Ogmore MP said there are failings in all parts of the UK and to 'make political capital... is the wrong approach.'
Welsh Conservative MP Guto Bebb asked Michael Gove if he blamed 'a £600 per head funding gap or a Labour [Welsh] government which has accepted teaching unions' dogma.' The Education Secretary said simply, 'both.'
Advertisement
Wales' PISA rankings worst in UK
Shadow Education Minister Angela Burns says the PISA figures are 'appallingly low.' The Conservative AM said they forecast a 'dreadful future' and make it 'a terrible time to be a teenager here in Wales.'
Wales' PISA rankings worst in UK
Welsh Liberal Democrat Education Spokesperson Aled Roberts says 'every year of failure' in the education system represents 'a group of youngsters who themselves have been failed.'
He was responding to international PISA figures showing how Wales has performed compared to other nations.
Wales' PISA rankings worst in UK
Welsh Liberal Democrat leader Kirsty Williams says the PISA figures for Wales are 'a source of embarrassment.'
It's a disgrace. What people will hear about Wales today [in the rest of the UK and the rest of the world] is that we have got an education system that is not as good as it should be. That's what people will know about Wales today and that should be a source of embarrassment to the Welsh Government.
– Kirsty Williams AM, Welsh Liberal Democrat Leader
Wales' PISA rankings worst in UK
Wales risks being left behind the rest of the UK in terms of future employment and prosperity, according to the Welsh Secretary. David Jones was responding to the publication of international figures showing pupils in Wales performing worse than in England and Scotland.
Today's figures are extremely disappointing, and highlight the important challenge that the Wales – and the UK as a whole – faces to ensure our young people are equipped with the tools they need to shine in the competitive employment market.

We are living in an increasingly competitive world and if Wales is to succeed in the global race, we will need more scientists, engineers, and young people who are equipped with the skills to put them at the front of the queue.
Most importantly, we need to inspire them to pursue their ambitions. Today's worrying figures do very little to help us achieve that aim.

It is vitally important that the Welsh Government now seeks to address these serious educational deficiencies and give the young aspirational people of Wales the skills they need to succeed.
– David Jones MP, Secretary of State for Wales
Advertisement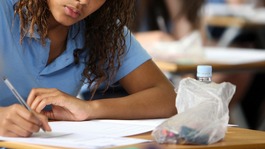 Wales' PISA rankings worst in UK
Plaid Cymru's Education Spokesperson, Simon Thomas, says today's PISA figures show that 'something is going wrong in our education system.' He also says the Welsh Government's aim of getting into PISA's top 20 by 2014 is 'completely unrealistic.'
Wales' PISA rankings worst in UK
Education Minister Huw Lewis will face an urgent question in the Senedd this afternoon following the publication of the PISA results. The Assembly Commission has confirmed the urgent question tabled by Liberal Democrat Aled Roberts has been accepted by Presiding Officer Rosemary Butler.
Wales' PISA rankings worst in UK
The Association of Teachers and Lecturers in Wales has described the PISA results as 'grim', but said changing policy could be perilous.
We should not pretend that this result is anything but bad news. While we have shown a modest improvement in our score for reading, the continued drop in maths results is very concerning and the dip in science results is deeply disturbing. There is still a great deal to do before Wales achieves the UK average, let alone becomes one of the top twenty nations.

However, given that the opening decade of devolution was characterised by denial, drift, and dither it would have been ludicrous to assume that our position could have been turned around in just two years.
– Dr. Philip Dixon, Director of ATL Cymru

Dr Dixon added: "Since [the last PISA results] the right policies and the right focus have been put in place. Literacy and numeracy have been made key priorities, and national frameworks and structures set up to support them.

"Those have not yet had time to make a real impact. They will, and we must give them time to work. The Pisa results are grim but we change course now at our peril."
Load more updates