At the last General Election, just 44 per cent of 18 to 24-year-olds turned out to vote. That compares with 76 per cent of people aged over 65.
This year, to try to get more young people engaged in politics, ITV News is running the School Debate project.
Find out more about the Election 2015 School Debate
Chepstow School invited in candidates from their constituency, Monmouth, to answer questions from candidates.
Watch Tom Sheldrick's report from the school:
The Welsh Government say it remains committed to supporting young people into work.
It comes after criticism from the National Assembly Enterprise and Business Committee who say not enough is being done to help young people find work.
Youth unemployment in Wales is falling faster than in other parts of the UK. We welcome this report and its recognition that we have prioritised jobs for young people, and that our schemes and programmes have led to improvements.

We remain committed to supporting young people into work and the continued success of programmes such as Jobs Growth Wales and Welsh Government funded apprenticeships are testament to this. However we acknowledge that there are still opportunities for improvement.

We will consider the report in detail and provide a full response to the committee by Thursday 30th April.
– Welsh Government spokesperson
Advertisement
Young people need more support to get into work says a National Assembly Committee. It's made recommendations to the Welsh Government.
Read the full story ›
Teachers in Wales are to be given more support to improve their skills and develop their careers through a 'new deal' being launched today.
Read the full story ›
Welsh schoolchildren will honour the mathematician from Anglesey who gave the world Pi. William Jones introduced Pi to the world in 1706.
Read the full story ›
100 sixth-formers from schools around Wales have been visiting the National Assembly in Cardiff Bay, to grill politicians and design their own manifestos.
We asked them what they would like to see happen if they were in charge.
Watch Tom Sheldrick's report:
Ahead of May's General Election, ITV News is running a project called 'School Debate', to encourage more young people to get involved in politics.
Advertisement
Lecturers at Coleg y Cymoedd will be protesting at their Nantgarw campus in Cardiff today, over proposed redundancies.
Read the full story ›
There is an 'undeniable' need for change in the way teachers are trained here in Wales, according to a new report.
It warns: "as it is currently conceptualised, initial teacher education in Wales is not appropriate for developing the teachers it needs for its schools either today or tomorrow."
The 'Teaching Tomorrow's Teachers' report, commissioned by the Welsh Government, said that the current system has deteriorated since 2006, with weaknesses in provision at Wales' three initial teacher training centres among a number of "serious causes for concern."
Its recommendations include replacing the current three-year teacher training undergraduate degree with a four-year course, and a competitive tendering process being used to decide on the centres to lead the training in future.
These proposals, from Professor John Furlong, come ten days after a 'radical' set of ideas for a new curriculum for Wales' schools, which suggested making digital skills a responsibility for all teachers.
Education Minister Huw Lewis acknowledged that, on initial teacher training, "the case for change is compelling".
The Welsh Government will now consider the recommendations before deciding on which options to take forward.
Parents in Rhondda Cynon Taf gathered today to protest against the council's plans to introduce part-time education for three and four year olds in the area.
A march took place in Pontypridd town, organised by members of the group Parents Against the Cuts to Education.
The group have been fighting the council's plans for more than 18 months.
Jo Caddy is one of its members.
A spokesperson for Rhondda Cynon Taf Council said it had been forced to consider these decisions as part of the UK Government's Austerity Measures.
The Council's Cabinet recently agreed to amend the funding of nursery education to support part-time nursery education for three year-olds and full-time for four year olds.

The Cabinet determined that this decision will continue to ensure the provision of sufficient nursery education for the children of Rhondda Cynon Taf.

Even after these changes Rhondda Cynon Taf will be offering one of the most favourable provisions in Wales.This difficult decision will contribute over £2million in savings to bridge a funding gap of £30million which was initially faced by the Council.
– Spokesperson, Rhondda Cynon Taf Council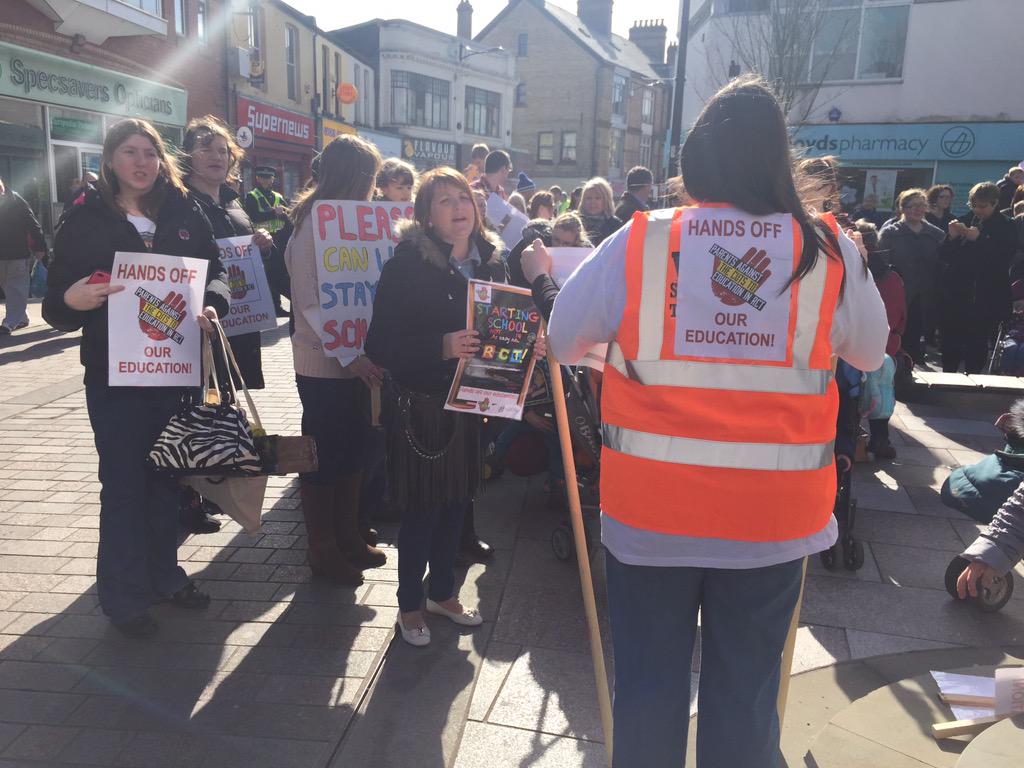 Protesters are lobbying Councillors in Pembrokeshire over planned changes to 6th Forms in the County, with the council considering a number of other changes to secondary and Welsh-medium education.
Consultations start later this month over plans to centralise all 6th Form provision in a new centre at Pembrokeshire College.
The six-week public consulation, which begins on the 23rd March, will include 10 public sessions across Pembrokeshire.
The County Council say they would like to hear people's views on the following proposals:
A new 11-16 secondary school for the Haverfordwest area with additional ALN (Additional Learning Needs) provision.
Reducing the age range of Ysgol Bro Gwaun and Ysgol Dewi Sant to 11-16 and providing additional bilingual ALN provision at Ysgol Bro Gwaun.
Post 16 provision for the above to be provided at a new integrated 6th Form Centre in collaboration with Pembrokeshire College.
A new 3-16 Welsh medium/ bilingual school on the site of the current Tasker Milward VC School, with post 16 provided at Ysgol y Preseli.
Members of the public can find out more information and take part in the consultation by visiting Pembroke County Council's website.
The closing date for responses will be Friday, 1st May.
Load more updates