Parents in Rhondda Cynon Taf gathered today to protest against the council's plans to introduce part-time education for three and four year olds in the area.
A march took place in Pontypridd town, organised by members of the group Parents Against the Cuts to Education.
The group have been fighting the council's plans for more than 18 months.
Jo Caddy is one of its members.
A spokesperson for Rhondda Cynon Taf Council said it had been forced to consider these decisions as part of the UK Government's Austerity Measures.
The Council's Cabinet recently agreed to amend the funding of nursery education to support part-time nursery education for three year-olds and full-time for four year olds.

The Cabinet determined that this decision will continue to ensure the provision of sufficient nursery education for the children of Rhondda Cynon Taf.

Even after these changes Rhondda Cynon Taf will be offering one of the most favourable provisions in Wales.This difficult decision will contribute over £2million in savings to bridge a funding gap of £30million which was initially faced by the Council.
– Spokesperson, Rhondda Cynon Taf Council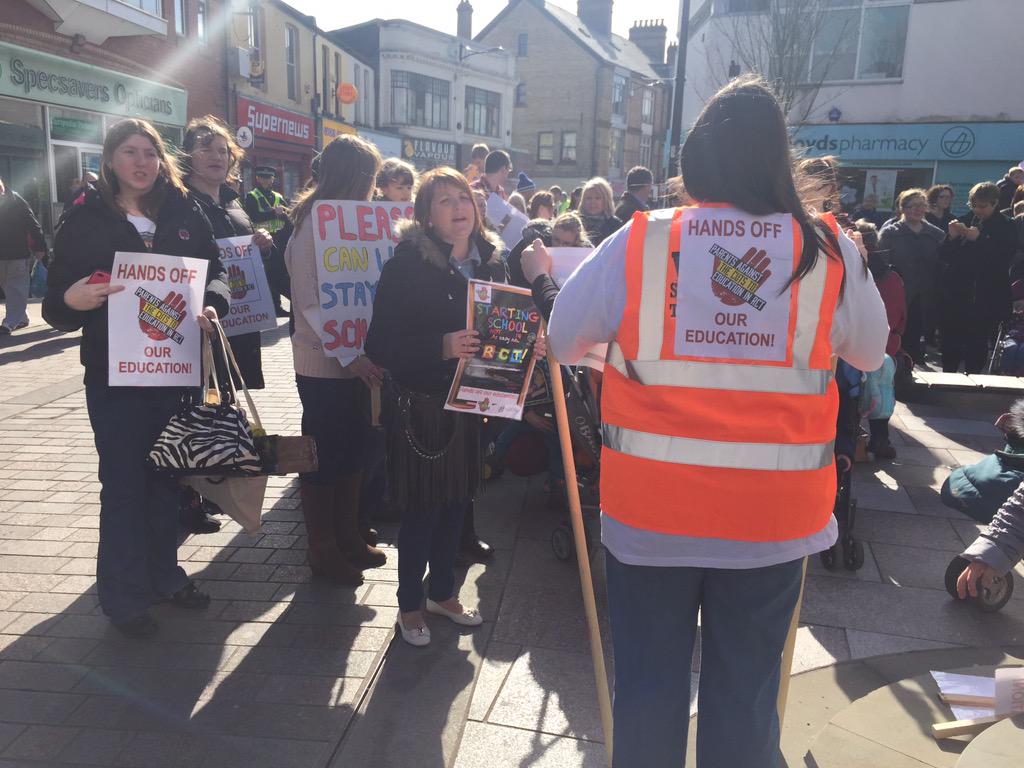 Protesters are lobbying Councillors in Pembrokeshire over planned changes to 6th Forms in the County, with the council considering a number of other changes to secondary and Welsh-medium education.
Consultations start later this month over plans to centralise all 6th Form provision in a new centre at Pembrokeshire College.
The six-week public consulation, which begins on the 23rd March, will include 10 public sessions across Pembrokeshire.
The County Council say they would like to hear people's views on the following proposals:
A new 11-16 secondary school for the Haverfordwest area with additional ALN (Additional Learning Needs) provision.
Reducing the age range of Ysgol Bro Gwaun and Ysgol Dewi Sant to 11-16 and providing additional bilingual ALN provision at Ysgol Bro Gwaun.
Post 16 provision for the above to be provided at a new integrated 6th Form Centre in collaboration with Pembrokeshire College.
A new 3-16 Welsh medium/ bilingual school on the site of the current Tasker Milward VC School, with post 16 provided at Ysgol y Preseli.
Members of the public can find out more information and take part in the consultation by visiting Pembroke County Council's website.
The closing date for responses will be Friday, 1st May.
Advertisement
In the last programme we've been to meet two Welsh entrepreneurs who chose a different route and we visit the Energy Centre at Coleg Menai.
Read the full story ›
ITV news presenter Jonathan Hill reflects on this week's Wales at Six special series on Welsh education.
Read the full story ›
We visit the Energy Centre at Coleg Menai, where they are trying to prepare young people for jobs on Anglesey's Energy Island.
Read the full story ›
Teachers, pupils, parents and businesses are being encouraged to get involved in a 'Great Debate' about the future of education in Wales.
It follows last week's publication of a 'radical' independent review of the curriculum here.
It proposed that schools should have more freedom, key stages should be scrapped, while digital competence and life skills should become increased priorities.
Read More: Major review of Welsh school curriculum calls for 'radical' overhaul
The Welsh Government commissioned the review, from Scottish academic Professor Graham Donaldson, and is now looking for feedback, before deciding whether to push ahead with the recommendations.
The proposals set out in the 'Successful Futures' report are by far the most exciting and thought provoking set of proposals for Welsh education for a generation and they deserve our attention.

Change on this scale needs time and consideration and I am keen to find out if teachers, parents, pupils and businesses think the suggested vision and purposes of education set out in the report are right for our children and young people.
– Huw Lewis, Education Minister
The Welsh Government says it will make "a formal statement in the summer once views have been considered."
There will be a series of public events, and people can also join the 'Great Debate' online.
Advertisement
Higher education isn't for everyone - we've been to meet two Welsh entrepreneurs who chose to leave education and have had real success.
Read the full story ›
In the second of our special series Welsh education: Making the grade? we visited Bishop Hedley High in Merthyr Tydfil.
Read the full story ›
As part of our special reports on education this week, Jonathan Hill has been back to his former secondary school, Whitchurch High.
Read the full story ›
We look at a flagship school scheme which aims to improve the performance of Welsh pupils from deprived backgrounds.
Read the full story ›
Load more updates