In the last of the current series of Face to Face, Adrian Masters talks to the journalist and author Nesta Wyn Ellis
Read the full story ›
The Queen's Commonwealth Games baton arrives to a water fanfare, and at the giant BA maintenance hangar there's a first class welcome for a brand new 777. Airport Operations Assistant Cristina is left blushing as French rugby fans serenade her at Passport Control, and the never ending battle to keep the airfield free of birds.
Advertisement
Adrian Masters interviews one of the country's leading historian, who is also the chair of the Arts Council of Wales.
Read the full story ›
Richard and Adam Johnson talk to ITV about their rise to fame. The Holywell pair came third in the 2013 series of Britain's Got Talent.
Read the full story ›
A painting by a Welsh artist has reportedly been stolen while on display in London.
The oil painting was stolen by a thief who stuffed the frame in a toilet cubicle.
Landscape At Llanaelhaearn by Sir Kyffin Williams vanished from a secure room at the Southbank Centre in central London at the end of last month.
The theft from level five of the Royal Festival Hall was discovered when a member of staff found the broken picture frame in a toilet cubicle.
Detective Constable Ray Swan, from Scotland Yard's Art and Antiques Unit, said, "Whoever stole this painting is likely to try to sell it. I urge anyone who is offered the painting to report the matter to us immediately.
The work, dated 1947, measures 20in by 24in and depicts a figure looking out at a dark and rugged landscape. It had been on display since November 2013, and was on loan from the Arts Council Collection.
NBC's London reporter Alexander Smith tweeted the theft this morning. The painting was on display at the Southbank Centre in London.
.@metpoliceuk say "Landscape at Llanaelhaearn" a painting by Welsh artist Kyffin Williams has been stolen from London's @southbankcentre.
Kyffin Williams, who died in 2006, was a landscape painter who lived on Anglesey and is widely regarded as the defining artist of Wales during the 20th century. A recent painting sold at auction for £50,000.
Welsh stars Richard and Adam Johnson say watching online masterclasses of Luciano Pavarotti helped them learn how to sing.
The pair came third in the 2013 series of Britain's Got Talent. They've since gone on to complete a UK tour and release their debut album.
But the brothers say they have come along way since making sandwiches in their hometown of Holywell, North Wales.
It's nice when we're in Wales because it's peaceful, we just chill out there and then back to work again but it's definitely changed our lives.

I mean from sandwiches to singing and places like Wembley and Olympic stadium is massive. So we so enjoying it and we hope it carries on.
– Richard Johnson
Richard and Adam talk about their road to success in tonight's episode of Time Of Your Life on ITV Cymru Wales at 8pm.
Advertisement
Fans of Welsh musical stars would not have been able to believe their luck as Sir Tom Jones took to the stage for a surprise song with Katherine Jenkins. Newlywed Katherine was performing in LA. See the video below posted by Celebrity Rockstars on YouTube.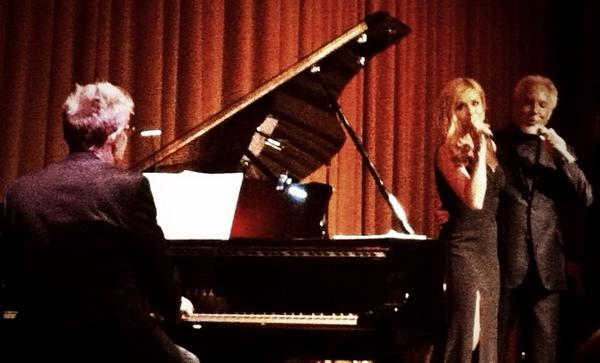 After her show, Katherine tweeted that she was in 'Welsh girl heaven'.
There's car park disruption, as wrongly parked vehicles threaten to delay vital improvement works, and on the runway a small jet with technical problems brings the airport to a complete standstill. Ground crew have just 25 minutes to get the Barcelona flight turned around and back in the air with new passengers, and the airport welcomes a new carrier and with it expanded routes.
Newport Gwent Dragons players have tweeted a photo of a chance meeting with singer Kylie Minogue at Heathrow Airport.
The singer has toured the UK in the past week, including a date at Cardiff's Motorpoint Arena.
The Airport, Episode Two is now available to watch online
The race in on to dismantle the main security hall and move it to its new location before the first of the morning departures, and hundreds arrive at the terminal building all looking for a holiday bargain at a special travel fair. There's a long night ahead for the runway repair team, while head of Customer Service Margaret James in on a mission to drive up standards.
Load more updates