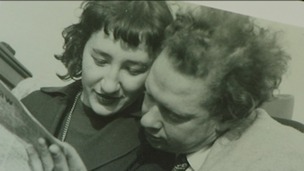 The love letters speak of a passionate affair between the poet and an American journalist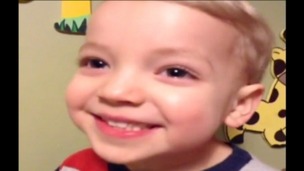 Three-year-old Harley has become an internet sensation through a smartphone App. 'Vine' lets users post short videos online.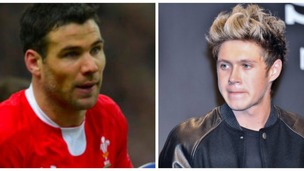 One Direction have been invited to don their rugby boots in a Twitter row with Mike Phillips.
Live updates
National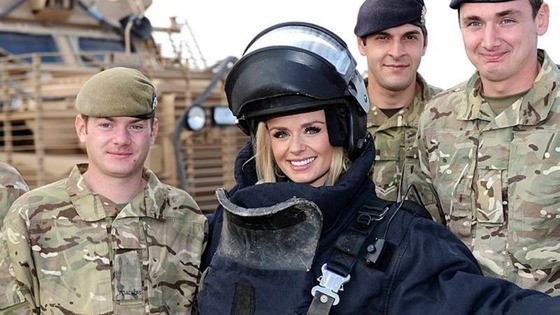 Katherine Jenkins has performed two special concerts for British troops at Camp Bastion in Afghanistan.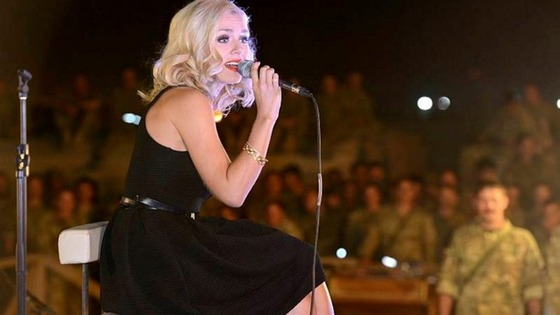 Jenkins even took time out to sing Happy Birthday to Craftsman Bryan Larkin, who turned 22 while on tour. The serviceman said the impromptu performance was "the last thing I expected".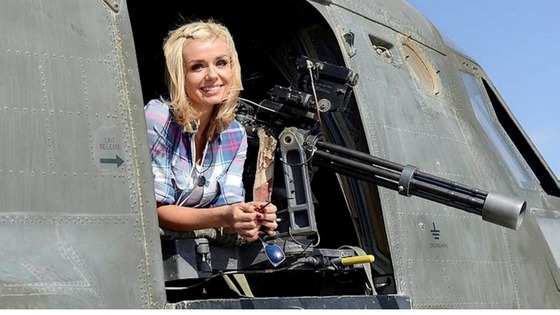 Jenkins, who is patron of the British Forces Foundation, said, "It is an immense honour to be able to perform for the men and women of our Armed Forces and I will continue to do so for as long as they want me".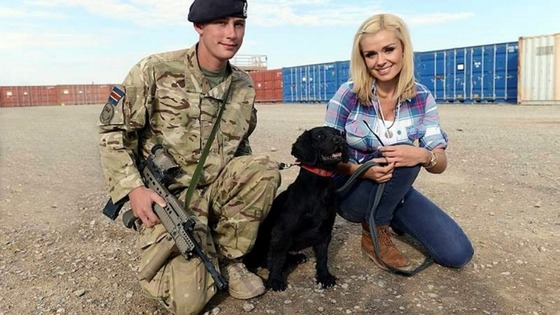 Read: Gary Barlow takes a run with squaddies at Camp Bastion
Welsh singer Nicky Stevens talks to ITV Cymru Wales about her life in showbiz, her Eurovision success with Brotherhood of Man and her memories of growing up in Wales.
Advertisement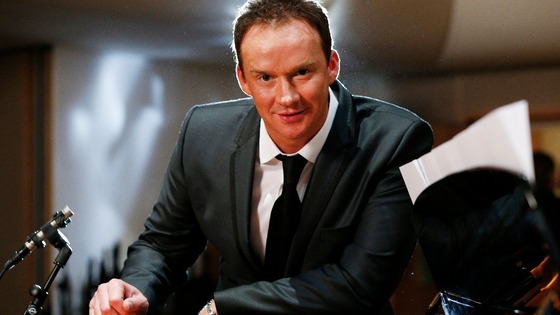 Classical singer, Russell Watson is lending his voice to a charity song which is raising funds for soldiers injured during war.
Russell will be joined by the Welsh Guards Choir and the National Symphony Orchestra at the 33rd annual Wales Festival of Remembrance tonight.
The annual event, which is being held at the St Davids Hall, will also feature Welsh stars Sophie Evans and Sara Edwards.
The 'Homeground anthem' is being released in January.
Paul Potts, winner of the first series of Britain's Got Talent, is releasing his greatest hits album. Paul from Bridgend won in 2007, with a performance of Puccini's Nessun Dorma.
The tenor, who used to manage a phone store released the album 'One Chance' after the show and it soared to number one in thirteen countries. In recognition of Potts' meteoric 'rags to riches' rise to fame, his life story has now been turned in to a movie, starring James Corden.
Catch up with Paul this evening when he joins us in the studio on ITV Cymru Wales at 1800 on ITV1.
Paul Potts on big screen
A film about the life of Port Talbot opera singer Paul Potts will be shown in cinemas from today.
One Chance is described as a 'rags-to-riches tale' of a mobile phone salesman who won the ITV show Britain's Got Talent.
James Corden plays Potts, with Julie Walters as his mother.
Watch the trailer for Paul Potts film One Chance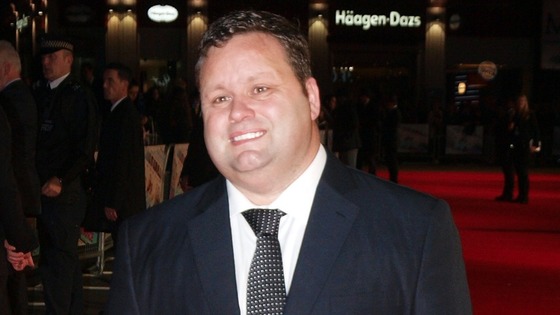 Read More: UK premiere for film about Port Talbot's Paul Potts
Many scenes were filmed in Port Talbot, where Potts grew up and still lives.
He was working in a mobile phone shop in Bridgend, when he auditioned for Britain's Got Talent in 2007.
He stunned the judges with a performance of Nessun Dorma, and went on to win the first series of the ITV talent show.
He has since had been sang all over the world, and released several albums.
Watch ITV Cymru Wales' programme on Paul Potts - Time of Your Life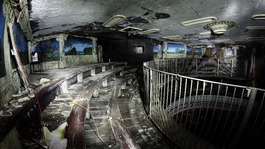 Advertisement
Sheen letter on Newport mural
Newport City Council has responded to an open letter by actor Michael Sheen, criticising it for demolishing the city's Chartist Mural.
The council says the decision to remove the mural was made last year.
It says Sheen's letter is "interesting" and "contains some practical suggestions which the council will consider."
His ideas include looking into the possibility of students from art schools and design courses working on a new commemoration of the Chartist uprising of 1839.
The Hollywood star, who was born in Newport and grew up in Port Talbot, took out a full-page advert in the South Wales Argus to write about the 'absurd and tragic' decision to demolish the mural.
The mural's future has been on public record since March 2012, when a planning decision and separate public consultation confirmed that the mural would have to be demolished and the preferred option as a result of the consultation was for it to be reproduced on tiles.

More recently, as Cadw did not list the mural and Newport City Council did not have £625,000 to remove and preserve it, we understand that these decisions have been difficult to accept for Newport residents both near and far.
The council found Mr Sheen's letter very interesting. It is forward-thinking and contains some practical suggestions which the council will consider.

We also echo Mr Sheen's call to "focus on how we can celebrate the past, connect it to the present and look hopefully to the future".

We are currently asking all members of the public to give us their views on a new commemoration of the Chartists details of which are on the council's website.
– Newport City Council spokesperson
Sheen letter on Newport mural
The South Wales Argus has published an open letter from Welsh actor Michael Sheen to the people of Newport, criticising the local council for demolishing the Chartist Mural in the city centre.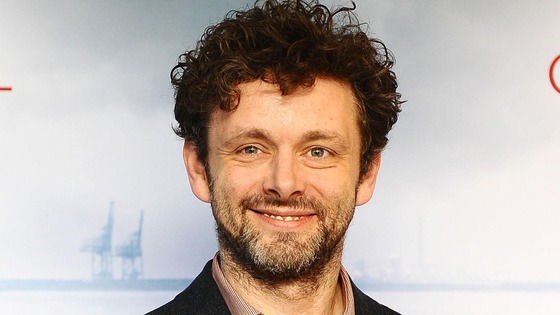 The Hollywood star was born in Newport, and brought up in Port Talbot.
The mural, which depicts the 1839 Chartist uprising to free political prisoners, was pulled down two weeks ago to make space for a new shopping centre, amid protests from local people.
Sheen writes: "the vicious irony of something created to celebrate those who risked much for the good of all, being wiped out without consulting the people themselves, and under the auspices of a Labour-led City Council serving the needs of profit above all else, is both absurd as well as tragic."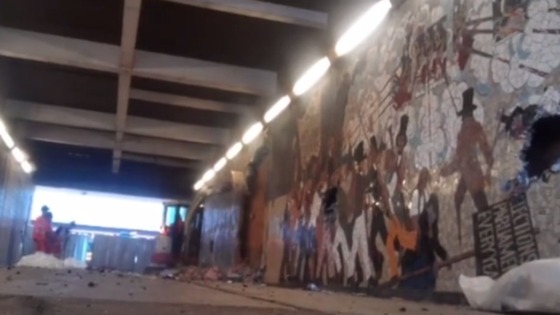 He also says: "That so little was done, or was able to be done, by us, in order to stop this from happening, brings shame to us all."
The actor urges people to spread the word about the Chartists, and has some suggestions on how a new mural could be created.
UK premiere for Paul Potts film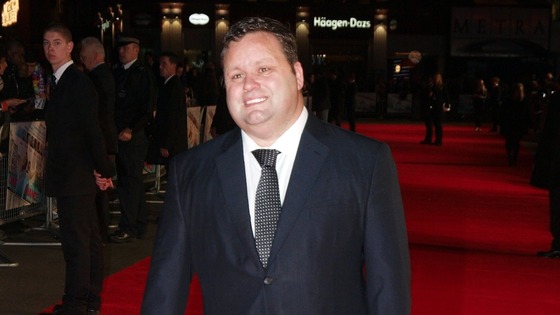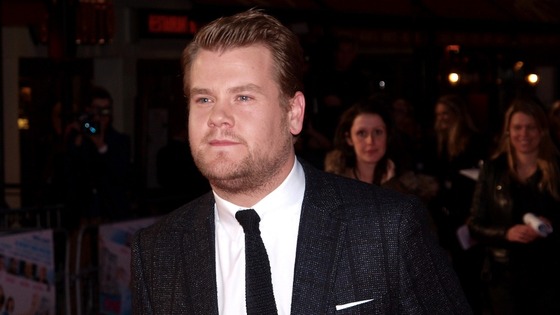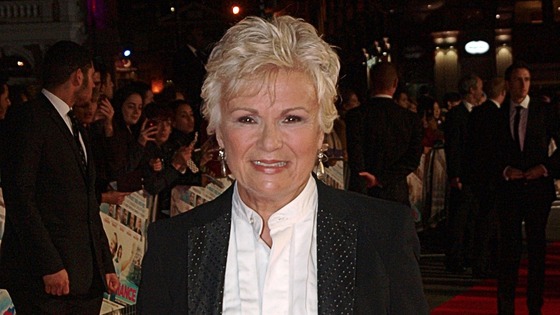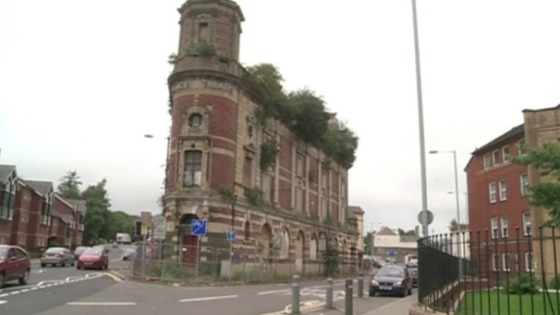 The Palace Theatre in Swansea has been included on the Victorian Society's list of the ten most endangered Victorian and Edwardian buildings in England and Wales.
The list was drawn up from nominations by members of the public following an appeal to find the country's best and most threatened buildings.
To be eligible a building has to be at risk, whether from demolition, neglect, insensitive development or, as in the case of the Palace Theatre, decay and inaction.
While much of the centre of Swansea was destroyed in the Blitz, the Palace Theatre, which was a cinema at the time, survived.
Since then, the building has been a music hall, a bingo hall and a nightclub but currently stands disused.
Recognised for its distinctive wedge shape, the Palace Theatre once hosted Charlie Chaplin and was the site of Anthony Hopkins's first stage appearance in 1960.
Chris Costelloe, Director of the Victorian Society said:
"Repairs will be expensive but Swansea can't afford to lose a building of this quality, and one that has been at the heart of the city's cultural life for over a century."
Load more updates