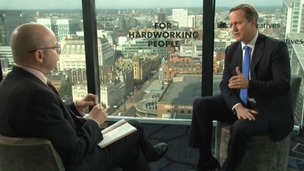 Political Editor Adrian Masters speaks to the party leaders during this year's party conferences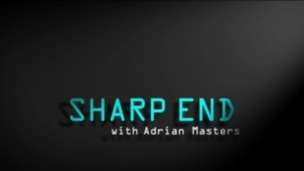 Presented by our Political Editor Adrian Masters, Sharp End brings you reports, interviews and analysis every Thursday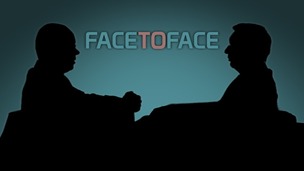 Adrian Masters talks to political leaders, public figures and extraordinary people in this series of one-to-one interviews.
Live updates
Cardiff woman fears for her life in Libya
A Cardiff woman living in Libya says she fears being beheaded or gunned down in the street as the country descends into violence. The woman, along with her children and grandchildren, are trapped in Benghazi which is under fire from Islamist militants. Her family and MP say the Foreign Office isn't doing enough to help her escape the fighting and return to Wales.
Political Editor Adrian Masters reports.
Cardiff woman fears for her life in Libya
Labour MP Stephen Doughty says the Foreign Office must act to evacuate a Cardiff woman caught up in escalating violence in Libya. The woman's family says they've not received the help that others have to escape the country.
Stephen Doughty says the Foreign Office must offer help despite internal political problems and the pressure of other world conflicts.
Advertisement
Cardiff woman fears for her life in Libya
'P,' the Cardiff woman desperate to escape Libya to return to Wales, has also provided us with pictures she says show the impact of a recent rocket attack on her son's house in a different part of Benghazi.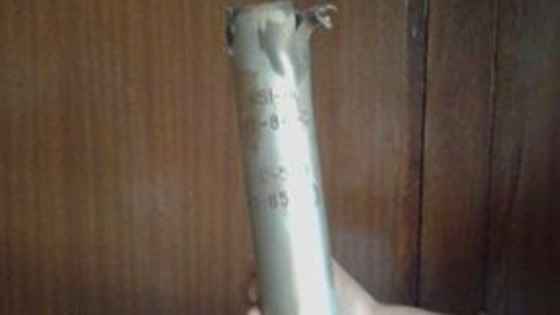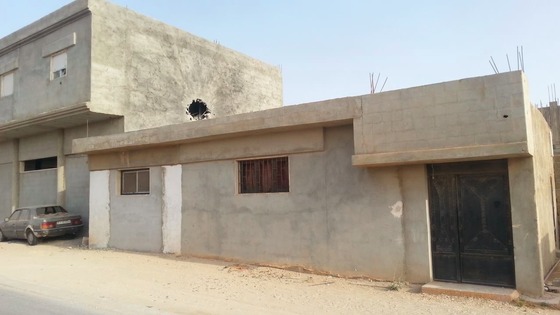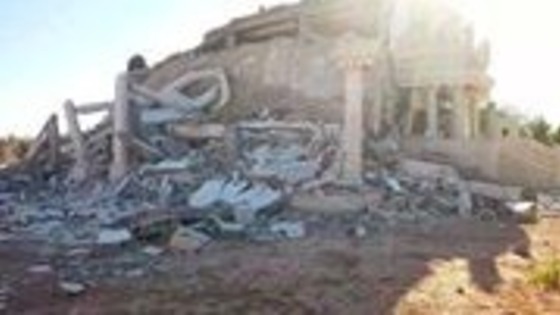 Cardiff woman fears for her life in Libya
The Cardiff woman caught up in increasing violence in Libya says she's scared to step out of her house because she's afraid of being shot. She says she 'stands out like a sore thumb' because she's a foreigner and has campaigned online against the Islamic militants who are closing in on her home in Benghazi.
She's asked us to identify her only as 'P' because she fears reprisals. She told Adrian Masters how dangerous her life has become.
Cardiff woman fears for her life in Libya
Here's the full statement from the Foreign office in response to complaints that it's not doing enough to help a Cardiff woman and her family to flee increasing violence in the Libyan city of Benghazi.
We remain deeply concerned at the growing instability, and increased violence in Libya, especially in Tripoli and Benghazi.

Over the past few weeks we have actively assisted with the evacuation of more than 250 British Nationals from Libya using British naval assets (HMS Enterprise) as well as identifying opportunities to travel with other carriers (e.g. most recently on a South Korean ship on 16-17 August).

We have been advising against all travel to Benghazi for almost two years. On 26 July this year the UK government changed its travel advice to reflect the ongoing security situation and increase in violence. Since then we have been advising "against all travel to Libya" and for British Nationals in Libya to leave through commercially available means.

While not easy, we understand that commercial flights are running and are being used to leave Libya.

Flights are reported to be leaving from Mitiga to Tunis, Cairo, Casablanca, Istanbul, Amman and other destinations; and from Misrata to Tunis, Istanbul and Cairo. We understand Al Abraq airport (currently serving Benghazi) and Tobruk are operating.

Operations at the British Embassy in Tripoli were temporarily suspended on 4 August. British nationals in Libya requiring urgent assistance should use the general FCO number: 020 7008 1500 (24 hours).

We continue to be in contact with British nationals and dependants who remain in Libya, and who have expressed a desire to leave.

Our officials continue to monitor options for British nationals to leave by commercial or by other means. When we become aware of these we will inform British nationals seeking to leave as soon as possible.
– Foreign Office spokesperson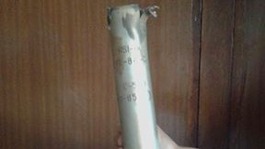 A Cardiff woman who's lived in Libya for 27 years says she fears for her life as militants close in on her home in Benghazi
Read the full story
Advertisement
Welsh hopes and fears over Scottish vote
Plaid Cymru has warned of a "grim" outcome for Scotland if it votes against independence next month and insisted that if the Scots leave the UK, Wales can benefit. The party has seized on polling evidence that the English want Scots to stop benefitting from public spending above the UK average.
The same poll showed that the Welsh agree with the English on this issue, although there's little support in either Wales or England for Scottish independence. Plaid is supporting the campaign by its SNP sister party for a 'yes' vote next month.
Public opinion in England on how Scotland should be treated if it votes 'no' paints a grim scenario for Scotland if its people vote against independence in the referendum. There could be public demand in England for a backlash against Scottish public expenditure and against the voting rights of Scottish MPs. This idea of 'playing hard-ball' with Scotland is not likely to help rebalance the UK or solve the problem of political and economic power being concentrated in the south-east of England.

Plaid Cymru maintains that the emergence of an independent Scotland would be in Wales' economic, social and political interests. We have said that following the Scottish referendum there needs to be a new era of self-government for Wales based on a reserved powers model, so that we have a more equal relationship between Wales, England and any other parts of the UK.
– Plaid Cymru AM Rhun ap Iorwerth
Welsh hopes and fears over Scottish vote
If Scotland votes for independence, Welsh voters would want the rest of the UK to back Scottish efforts to join the European Union and NATO but English voters would oppose offering any support. That's the most startling finding of newly published research into attitudes in the two countries to the Scottish referendum.
Support Scotland joining EU and NATO?
Wales 34% agree, 32% disagree
England 26% agree, 36% disagree
The YouGov poll for Cardiff and Edinburgh Universities also found that although the Welsh are against the idea of letting an independent Scotland keep the pound sterling, there's not the overwhelming opposition found in England.
An independent Scotland sharing the pound?
Wales 36% agree, 44% disagree
England 23% agree, 53% disagree
Both the Welsh and the English strongly support more devolution for Scotland if it rejects independence next month. However, both countries are against allowing the Scots to carry on having public expenditure above the UK average.
Scotland's current spending levels are often contrasted with the position in Wales, where politicians of all parties have called for a more generous settlement to reflect Welsh needs. Nevertheless the Welsh appear to feel less strongly about the issue than the English.
Public spending in Scotland reduced to the UK average?
Wales 48% agree, 12% disagree
England 56% agree, 9% disagree
The findings are the result of a large-scale survey carried out in April. Like other polls, it found little difference in between Wales and England when it came to a strong desire for Scotland to vote to stay in the UK
Should Scotland be an independent country?
Wales 19% agree, 61% disagree
England 19% agree, 59% disagree
It's interesting that while there is almost no difference in the views of people in England and Wales about what they wish to see happen in the Scottish referendum, there are clear differences in how people wish to see the aftermath dealt with. Put bluntly, the English are more inclined to want to play hard-ball with Scotland. Those in Wales are notably more cautious about this, and more favourable to a more conciliatory approach.
– Prof Roger Scully, Cardiff University

Researchers at Cardiff and Edinburgh Universities, working alongside the polling agency YouGov, consulted a representative sample of 3695 adults in England and 1027 in Wales. The surveys were undertaken in late April 2014.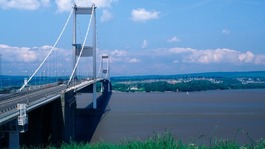 The Lib Dem pledge to scrap the Severn tolls will make sure future control of the bridges will be an election issue in 2015.
Read the full story
Liberal Democrats pledge to scrap Severn Bridge tolls
Welsh Liberal Democrat Leader Kirsty Williams has dismissed calls for the Severn tolls to be devolved to the Welsh Government, saying it would be better for Wales to abolish them altogether.
The First Minister has previously called for responsibility for the tolls and their income to be transferred and, in response to the Lib Dem pledge, the Welsh Government has said it should 'have a say'when the bridges return to public ownership.
But Kirsty Williams says no UK Government is likely to agree to such a move.
Load more updates