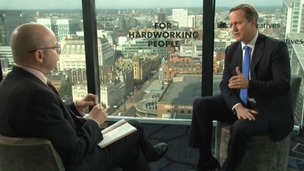 Political Editor Adrian Masters speaks to the party leaders during this year's party conferences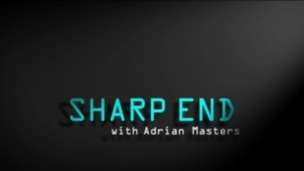 Presented by our Political Editor Adrian Masters, Sharp End brings you reports, interviews and analysis every Thursday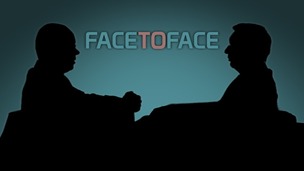 Adrian Masters talks to political leaders, public figures and extraordinary people in this series of one-to-one interviews.
Live updates
Wales This Week: Smoke Without Fire
E-cigarettes: a saviour for smokers or just another harmful habit? As the Welsh Government looks to ban them from public places, Wales this Week finds out more about the booming business of E-cigarettes.
138 jobs created at Swansea electronics firm
Economy minister Edwina Hart says an investment of more than half a million pounds will secure the future of an electronics firm in Swansea.
Trojan Electronics will see its workforce almost doubled after the Welsh Government announced it will invest over £625,000 in a new headquarters.
This innovative support package is a prime example of how the Welsh Government is supporting business growth. The refurbished building will create the environment for Trojan Electronics to operate more efficiently while ensuring it has space to expand to meet the projected increased demand for its services.

The investment is not only creating a significant number of new jobs in one of our key sectors but also secures the future of the business. I am also delighted that Richard Hayward Properties is refurbishing an important industrial building and bringing it into employment use, helping to regenerate the area and ensuring Trojan Electronics has a sustainable long term future in the region.
– Edwina Hart, Economy Minister
Advertisement
138 jobs created at Swansea electronics firm
Around 138 jobs are to be created at Trojan Electronics in Swansea as part of a £2.1m investment by the Welsh Government.
Work will start today on a new £625,000 headquarters which will see two of the current Trojan sites move into one.
The new jobs will almost double the current workforce. The new offices are expected to be completed next year.
Wales This Week: Smoke Without Fire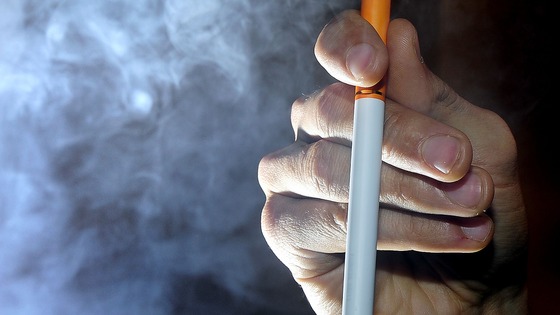 Plans to ban the use of e-cigarettes in enclosed public places would be broadly welcomed by a majority of Welsh people.
That's the conclusion of an exclusive ITV Wales poll, which found that 52% of respondents backed the proposal by Health Minister Mark Drakeford. The Welsh Government will decide whether to go ahead with the plan later this year. But, for many people, e-cigarettes seem to be a life saver. Rob Heyes from Cardigan has suffered serious health problems as a result of smoking tobacco for 33 years. He's now given up with the help of e-cigarettes.
"I'm furious about it to be honest, that's one of the reasons people start using these because they can use them indoors, once they've started then they can move onto eventually switching completely."
– Rob Heyes, Cardigan

Dr Ruth Stone from Llandaff Surgery thinks e-cigarettes are a huge public health success:
"I think they are a very good substitute for ordinary cigarettes, they do provide nicotine which is often needed when one is giving up cigarettes. They don't supply the tar and the smoke and the tobacco that are harmful to people. So they're very useful as an adjunct treatment."
– Dr Ruth Stone, Llandaff Surgery

Almost half of those who answered our opinion poll seem to agree with the doctor. 42% said they think e-cigarettes help reduce smoking and only 15% think they encourage people to take up the habit.

But despite the research suggesting e-cigarettes do help people quit cigarettes, the Health Minister is convinced they normalise the act of smoking. He also claims there is not enough evidence to assume they're completely safe.
"What we have to do is consider the emerging evidence in this field and I have to proceed on the precautionary principle, if there is evidence that e-cigarettes do no harm, but a pile of evidence that suggests that they may be harmful to people's health in the future. Then I cannot afford to take the risk with the Welsh population's health."
– Mark Drakeford AM, Minister for Health
Study supports plans for minimum alcohol pricing
The Welsh Conservatives are supporting moves to introduce minimum alcohol pricing in Wales. That's despite a controversial decision last year by David Cameron to drop a similar plan for England. The Prime Minister feared it would be 'unworkable' and open to legal challenge.
But the party's Shadow Health Minister in the Assembly, Darren Millar, says it can work in Wales.
Labour remains suspicious about the UK Government's Wales Bill which is being debated for the first time by members of the House of Lords. But the party's frontbencher in the Lords, Baroness Morgan, says the borrowing powers the bill would give to the Welsh Government are significant.
Advertisement
Peers are to debate plans to give the Welsh Government more powers, including the ability to borrow money and some control over taxes. They're discussing the UK Government's Wales Bill which would introduce the changes.
Plaid Cymru's Dafydd Wigley says that, despite its flaws, the bill is a step forward.
Stephen Crabb named as Welsh Secretary in reshuffle
New Welsh Secretary Stephen Crabb turns to one of the items at the top of his in-tray today -the row between the Welsh and UK governments over who pays for the electrification of the Valley lines. Ministers in Cardiff Bay say Mr Crabb's predecessors, Cheryl Gillan and David Jones, were quick to claim the credit for the giving the multi-million pound project the go ahead, so there's no way that the bill should be passed on.
Today Mr Crabb will hold talks with this cabinet colleague, the Transport Secretary, Patrick McLoughlin. The Transport Department argues that as the Welsh Government manages the Wales and Borders rail franchise, it should be responsible for repaying the cost. That would mean either funding a bigger subsidy or putting up the fares.
Only yesterday, the Prime Minister defended what he saw as a done deal but ITV news understands that there might at least be a concession over how quickly the money needs to be repaid. A senior Welsh Government source was also optimistic that the dispute could soon be settled.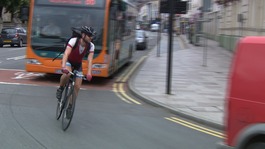 If you missed Wales this Week, Cycling's New Roots, you can now catch up online
Read the full story
Wales leads the way with new Active Travel Act
While the Welsh Government focuses on increasing the number of cyclists in Wales through its new Active Travel Act, our local authorities are tasked with the challenge of making cycling more accessible.
Below is a list of the resources which are available in Wales, to help us to gain the confidence and skills we might need to get on our bikes.
Please contact your local authority offices if you would like more information about the support which is available to cyclists in your area.
Road safety training A number of local authorities in Wales, including Cardiff Council and Powys Council, offer free road safety classes for adults. If you're based in Caerphilly, The Caerphilly Travel Hub offers free cycle training for adults and children on Wednesday afternoons.
If you work in either Pontypridd, Cardiff or Caerphilly, you may also be entitled to free cycle training as part of the Smarter Journeys to Work Project
www.sustrans.org.uk/wales/what-we-do/workplaces
And if you don't qualify for free cycle training, then CTC and Cycle Training Wales both offer some great value cycle training packages.
www.ctc.org.uk www.cycletrainingwales.org.uk
Route Planning Google Maps offer clear and up to date route planning for cyclists. Simply enter the location that you wish to travel to, choose 'Cycling' as your mode of transport, and Google Maps will demonstrate a variety of cycle routes along with an estimated journey time. It can also highlight cycle trails, cycle-friendly roads and the types of terrain that you might encounter.
Visit Wales have also compiled a list of the most picturesque cycle routes in Wales, including the Mawddach trail in Snowdonia and the Elan Valley Trail in Mid Wales.
www.visitwales.com/holidays-breaks/family-holidays/bike-riding-routes
Cycle to Work Scheme A growing number of employers across Wales are signed up to Cycle Scheme, a scheme that allows employees to obtain a free bicycle in order to cycle to work. To find out if your employer is signed up to this scheme, you should speak with your manager or HR department. If your employer is not signed up to the scheme but you'd like to invite them to join, you can find out how by visiting the Cycle Scheme website.
Bike MOT
Got a bike in the garage that's gathering dust? Sustrans Cymru recommend you pay a visit to your local bike shop, who will offer services to get your bike back into shape for very reasonable prices. And if you work in Pontypridd, Caerphilly or Cardiff, you might also be entitled to free bike maintenance sessions as part of the Smarter Journeys to Work project.
www.sustrans.org.uk/wales/what-we-do/workplaces
Cycling Clubs
If you fancy a bit of company, The British Cycling Organisation has compiled a database of different cycling clubs across the UK. Simply select 'Wales' or enter your postcode and you can choose from a variety of cycling clubs across the country.
www.britishcycling.org.uk/clubfinder
For the Kids
Cycling proficiency classes are increasingly offered free of charge in schools. However, there are also a number of classes, activities and resources accessible for kids across Wales.
Beicio Cymru have outlined a few, including kids classes in Aberaeron and Carmarthenshire.
www.britishcycling.org.uk/wales/article/wcst-Welsh-Cycling-kids-activities
Sustrans have also produced a detailed webpage dedicated to children's cycling, including information on where to cycle, how to stay safe and the different types of bike seats available.
www.sustrans.org.uk/change-your-travel/children-and-families/cycling-kids
Bike Security
North Wales police offer free bike marking at a variety of events, and launched their 'Bicycle Watch' scheme in 2012 which they encourage cyclists to join for free by visiting www.north-wales.police.uk.
South Wales police also offer free bike marking at a variety of events, which they announce via their Facebook page
They have also compiled a detailed webpage on how to keep your bike safe, available at
www.south-wales.police.uk/more-about-us/protect-bike/
For updates on road safety initiatives in Wales, check out:
Load more updates