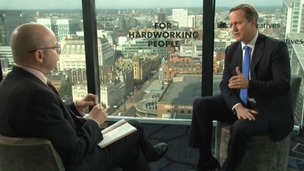 Political Editor Adrian Masters speaks to the party leaders during this year's party conferences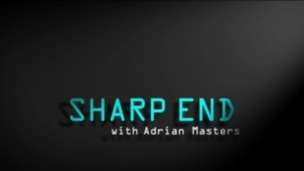 Presented by our Political Editor Adrian Masters, Sharp End brings you reports, interviews and analysis every Thursday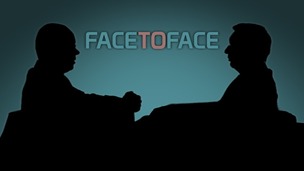 Adrian Masters talks to political leaders, public figures and extraordinary people in this series of one-to-one interviews.
Live updates
Peers are to debate plans to give the Welsh Government more powers, including the ability to borrow money and some control over taxes. They're discussing the UK Government's Wales Bill which would introduce the changes.
Plaid Cymru's Dafydd Wigley says that, despite its flaws, the bill is a step forward.
Stephen Crabb named as Welsh Secretary in reshuffle
New Welsh Secretary Stephen Crabb turns to one of the items at the top of his in-tray today -the row between the Welsh and UK governments over who pays for the electrification of the Valley lines. Ministers in Cardiff Bay say Mr Crabb's predecessors, Cheryl Gillan and David Jones, were quick to claim the credit for the giving the multi-million pound project the go ahead, so there's no way that the bill should be passed on.
Today Mr Crabb will hold talks with this cabinet colleague, the Transport Secretary, Patrick McLoughlin. The Transport Department argues that as the Welsh Government manages the Wales and Borders rail franchise, it should be responsible for repaying the cost. That would mean either funding a bigger subsidy or putting up the fares.
Only yesterday, the Prime Minister defended what he saw as a done deal but ITV news understands that there might at least be a concession over how quickly the money needs to be repaid. A senior Welsh Government source was also optimistic that the dispute could soon be settled.
Advertisement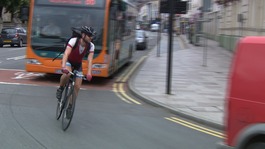 If you missed Wales this Week, Cycling's New Roots, you can now catch up online
Read the full story
Wales leads the way with new Active Travel Act
While the Welsh Government focuses on increasing the number of cyclists in Wales through its new Active Travel Act, our local authorities are tasked with the challenge of making cycling more accessible.
Below is a list of the resources which are available in Wales, to help us to gain the confidence and skills we might need to get on our bikes.
Please contact your local authority offices if you would like more information about the support which is available to cyclists in your area.
Road safety training A number of local authorities in Wales, including Cardiff Council and Powys Council, offer free road safety classes for adults. If you're based in Caerphilly, The Caerphilly Travel Hub offers free cycle training for adults and children on Wednesday afternoons.
If you work in either Pontypridd, Cardiff or Caerphilly, you may also be entitled to free cycle training as part of the Smarter Journeys to Work Project
www.sustrans.org.uk/wales/what-we-do/workplaces
And if you don't qualify for free cycle training, then CTC and Cycle Training Wales both offer some great value cycle training packages.
www.ctc.org.uk www.cycletrainingwales.org.uk
Route Planning Google Maps offer clear and up to date route planning for cyclists. Simply enter the location that you wish to travel to, choose 'Cycling' as your mode of transport, and Google Maps will demonstrate a variety of cycle routes along with an estimated journey time. It can also highlight cycle trails, cycle-friendly roads and the types of terrain that you might encounter.
Visit Wales have also compiled a list of the most picturesque cycle routes in Wales, including the Mawddach trail in Snowdonia and the Elan Valley Trail in Mid Wales.
www.visitwales.com/holidays-breaks/family-holidays/bike-riding-routes
Cycle to Work Scheme A growing number of employers across Wales are signed up to Cycle Scheme, a scheme that allows employees to obtain a free bicycle in order to cycle to work. To find out if your employer is signed up to this scheme, you should speak with your manager or HR department. If your employer is not signed up to the scheme but you'd like to invite them to join, you can find out how by visiting the Cycle Scheme website.
Bike MOT
Got a bike in the garage that's gathering dust? Sustrans Cymru recommend you pay a visit to your local bike shop, who will offer services to get your bike back into shape for very reasonable prices. And if you work in Pontypridd, Caerphilly or Cardiff, you might also be entitled to free bike maintenance sessions as part of the Smarter Journeys to Work project.
www.sustrans.org.uk/wales/what-we-do/workplaces
Cycling Clubs
If you fancy a bit of company, The British Cycling Organisation has compiled a database of different cycling clubs across the UK. Simply select 'Wales' or enter your postcode and you can choose from a variety of cycling clubs across the country.
www.britishcycling.org.uk/clubfinder
For the Kids
Cycling proficiency classes are increasingly offered free of charge in schools. However, there are also a number of classes, activities and resources accessible for kids across Wales.
Beicio Cymru have outlined a few, including kids classes in Aberaeron and Carmarthenshire.
www.britishcycling.org.uk/wales/article/wcst-Welsh-Cycling-kids-activities
Sustrans have also produced a detailed webpage dedicated to children's cycling, including information on where to cycle, how to stay safe and the different types of bike seats available.
www.sustrans.org.uk/change-your-travel/children-and-families/cycling-kids
Bike Security
North Wales police offer free bike marking at a variety of events, and launched their 'Bicycle Watch' scheme in 2012 which they encourage cyclists to join for free by visiting www.north-wales.police.uk.
South Wales police also offer free bike marking at a variety of events, which they announce via their Facebook page
They have also compiled a detailed webpage on how to keep your bike safe, available at
www.south-wales.police.uk/more-about-us/protect-bike/
For updates on road safety initiatives in Wales, check out:
Visitors turn out to see cobs' performance at Royal Welsh
Prime Minister David Cameron, who's visiting the Royal Welsh Show at Llanelwedd, has announced plans for the UK Government to buy locally sourced seasonal food whenever possible. The Welsh Government already has a similar scheme.
In England, it's estimated that the public sector spends £1.2 billion a year on food, half of which is imported. The Prime Minister expects that most of the imported food could be replaced by British produce, much of it locally sourced.
No-one does more or works as hard in Wales and the rest of Britain today than our farmers. By opening up these contracts, we can help them create more jobs, invest in their businesses and make sure people in Wales have a healthier lifestyle. It's a triple win –and will mean a brighter future for our country.
– Prime Minister David Cameron MP
Wales leads the way with new Active Travel Act
Later this year the Welsh Government will implement a pioneering act which will place a requirement on local authorities to create and maintain so called Active Travel routes, for walking and cycling.
The aim of the act is simple - to increase the number of cyclists in Wales from a modest 2% of adults to a much fitter 10% by the year 2020. But many have been left questioning if our roads are ready for such an increase.
With increasing concern over issues of congestion, and ill health caused by some of the highest inactivity levels in Europe, many believe that the active travel act could offer multiple benefits. But with a total of one hundred deaths or serious injuries caused to cyclists in Wales last year, it is not without its risk.
Dr Rhodri Martin, from the Royal Glamorgan Hospital in South Wales, specialises in the benefits of exercise to our everyday health
"As a nation we are already suffering from a huge amount of chronic disease as a result of our inactivity levels. But by making it easy for people to cycle to work, by making people feel safe when they are cycling, little steps like that will help drive forward our physical activity levels"
– Dr Rhodri Martin, Medical Exercise Registrar

It is Dr Martin's belief that the introduction of the active travel act could solve our inactivity problems and help to promote a fitter, more active nation, which could potentially lead to huge benefits to our health system.

Tonight, Andrea Byrne takes to two wheels to find out more about the Active travel Act, and to ask how safe our roads really are.

Wales This Week, Cycling's New Roots is on Tonight at 8 on ITV Cymru Wales
Advertisement
Police probe into Lord Tonypandy child abuse claim
Police are investigating an allegation of child abuse made against George Thomas, later known as Lord Tonypandy. He was a huge figure in British Politics rising to become Welsh Secretary and Speaker of the House of Commons. An alleged victim told a newspaper he was abused at his Cardiff foster home in the 60s. With more here's Alexandra Lodge.
Police probe into Lord Tonypandy child abuse claim
The alleged victim of abuse by Lord Tonypandy has told the Daily Mirror newspaper that he was attacked in Cardiff when he was nine years old.
"I was raped by George Thomas in Cardiff. I was about nine.

"He spent a lot of time at my house as my parents were good friends with him.

"Things started small but then got a lot worse. It has been with me all my life."
– Alleged victim
Police probe into Lord Tonypandy child abuse claim
The alleged victim of abuse by Lord Tonypandy reportedly lives in Australia and is now age 55. The alleged abuse is said to have happened in the late 1960s and early 1970s. It's been reported that the abuse took place in the victim's home in Cardiff, when he was just nine years old.
Police probe into Lord Tonypandy child abuse claim
HTV Wales's former political editor Max Perkins talks about Lord Tonypandy's political career. It comes after allegations have emerged that Lord Tonypandy abused a nine-year-old boy during the late 1960s and early 70s.
Load more updates