Cardiff misses out on 'Green Bank'
Edinburgh and London will be the site of UK's first Green Investment Bank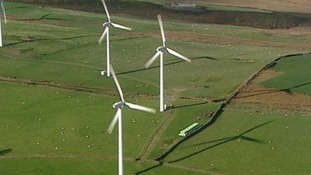 The UK government announces that Scotland will be the base for the Green Investment Bank.
Read the full story
The UK's first Green Investment Bank will be based in London and Scotland, Business Secretary Vince Cable has announced.
The Welsh Government had put in a bit for the bank to be located in Cardiff, which is intended to encourage private sector investment in "green" projects
But the city was rejected at the very first stage, for "not meeting the level of performance" set out in the review.
Both opposition parties and the Welsh Government have reacted with disappointment at the news.
Welsh Conservative sources questioning how hard or otherwise Welsh Govt fought for Green Investment Bank because 'Cardiff had v strong case'
A Welsh Govt source:'Yesterday it was Remploy, today it's the Green Investment Bank. What have the Tories and Lib Dems got against Wales?'
Advertisement
Back to top