Renewable energy plans unveiled
The Welsh Government has launched its vision for the future of energy-production here.
"If this is the Welsh Government's vision of a low carbon transition, it's a transition that's going to take a very, very long time indeed...Wales desperately needs the powers over planning and consenting for major energy infrastructure to free ourselves from the Whitehall mandarins who have no interest in Wales taking the lead in renewable jobs. "Devolution of powers over energy is working for Scotland, and if we're not going to be left behind, we must see it coming to Wales.
– Gareth Clubb, Director of Friends of the Earth Cymru
Advertisement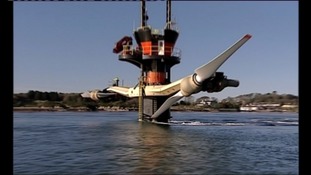 A Welsh Government report on the move towards a low carbon economy focuses on the need to harness the potential of tidal energy.
Read the full story
Back to top