Budget 2012
The Chancellor George Osborne presents the UK Government's 2012 Budget
Dan Langford, Group Marketing Director of Acorn, says he believes that people should be paid in relation to the value their skills bring to an organisation.
Advertisement
Welsh Liberal Democrat Roger Williams MP says he's disappointed the 50p higher rate of tax has gone but says his party has achieved successes in government.
Civil servant Margaret Davies from Merthyr Tydfil believes local pay will happen
The shadow Welsh Secretary Peter Hain says the chancellors budget is for "millionaires"
Advertisement
The Secretary of State for Wales Cheryl Gillan says the Welsh Government will have to make it's own decisions regarding regional pay for civil servants in Wales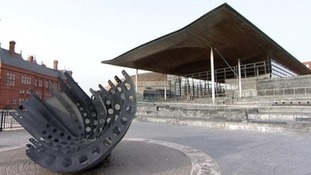 'Disappointing' or 'fair and supportive' - Welsh political verdicts on George Osborne's budget.
Read the full story
Einir Williams, a motorist from Gwytherin in North Wales reacts to George Osborne's announcement that there will be no cut to fuel duty
Load more updates
Back to top